The Home Accessories You've Been Missing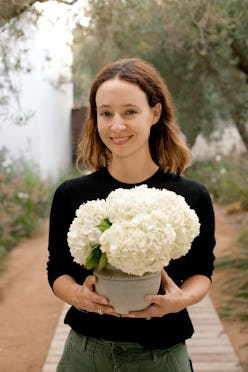 When it comes to opening our eyes to innovative décor elements (leather in the kitchen—brilliant!) SoCal designer and overall trendsetter Jenni Kayne is our go-to gal. Here, she breaks down the reasons ceramics are the unsung heroes of home accessories and the 4 lines to familiarize yourself with so you can get in on the pottery action.
Photo: Yayo Ahumada
Why It's Ok To Be A Pottery Head
"I love ceramics–I have them scattered throughout my entire house. Perhaps it's become a bit of an obsession. Ceramics can just as easily serve as a vessel for food or flowers as they can a statement piece for an entryway. Not surprisingly, they are some of the most requested items at my Montecito home store. Here, just a few of my favorites."
Victoria Morris
"I have long been a fan of Victoria Morris' work—her one-of-a-kind handmade lamps, vases and bowls are all at once simple and classic, rustic and refined. They function as usable pieces of art. My go-tos include her canisters—which I keep on the kitchen counter to store my tea—and her bowls, which are great to use for breakfast or to hold dips, for lavender or potpourri in the powder room, or on an entry table for keys."
To order by phone call 310-860-0123
Dora Delarios
"One of the country's most celebrated clay artists, Dora Delarios, has amassed a body of work that ranges from the small and intimate to the large-scale and impressive. My personal favorites are her detailed vases, which serve as the perfect vessel for a small bouquet but can also stand alone as a work of art."
To order by phone call 310-860-0123
Irving Place Studio
"Though this Los Angeles studio's roots date back six decades (one of its founders is Dora Delarios), Irving Place Studio is very much rooted in the contemporary. A collaboration between Dora, her daughter and her son-in-law, the current studio was established in 2012 and produces gorgeous hand-thrown ceramics. I use them for salads, veggies and as interesting serving pieces—especially when the meal boasts a ton of color."
To order by phone call 806-309-0560
Materia Lumina
"A collection of hand-formed sacred ceramics by artist, designer and modern medicine woman Eefje Theeuws, Materia Lumina has quickly become a favorite. Intended to bring beauty, peace and harmony to you and your home, they do just that. I especially love the Zen Bowls in small and large, and her wonderfully comforting Big Sur mugs."