H&M Home's New Collection Celebrates Female Creators In The Chicest Way
For The Love Of Art is back.
@hmhome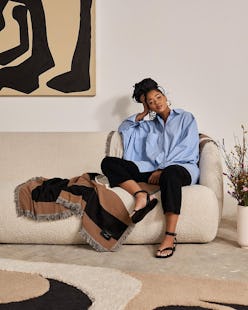 We may receive a portion of sales if you purchase a product through a link in this article.
In honor of Women's History Month, H&M Home is honoring female creatives with its second installment of For The Love Of Art, a collaboration with artists on exclusive capsule collections. This year's edition features two very different points of view via South African visual artist Lulama Wolf and US painter, poet, and author Amber Vittoria. Each creative developed their own distinct items that reflect their vision and signature styles.
"Art and interiors go hand in hand at H&M HOME," says Evelina Kravaev-Söderberg, head of design and creative at H&M HOME in an official press release. "Empowering young female creatives and providing them with an additional platform through our [For The Love Of Art] initiative, allows [the brand] to both inspire customers with the artists' talents, as well as adorn their homes with it. This new collection makes for beautiful keepsake interior pieces for the modern home. We hope our customers will love it as much as we do."
Wolf's designs for the partnership are influenced by both neo-expressionism and the modern African motifs that she's known for. The Johannesburg-based artist's rug, jacquard blanket, tufted cushion covers, and hand-painted plates created for the collection utilize a color palette of earthy hues that "echo her art," says an official press release.
"I wanted to introduce my practice, and the intention of my practice, and show why vernacular design and concepts thrive in multifunctional environments," explains Wolf in an email to TZR. "I really love the vernacular designed and painted plates that really honor my work, and the rug that includes the texture and layering elements of contemporary art."
For her creations, Los Angeles-based Vittoria wanted "to represent the nuances of womanhood," says the press release, adding that the poet worked with abstract forms, ribbons of color, and joyous words in her art. Indeed some of the colorful pieces, which include a rug, velvet cushion covers, plates, and three posters set against vibrant candy colors, proudly display her poetry and graphics.
"So many folks say they want color in their homes but are unsure on how to do that in a way that feels authentic," says Vittoria in an email to TZR. "Through the prints, rug, plates, and pillows, we created a colorful system for people to dip their toes into the world of a colorful home."
Whether you're a neutral-loving minimalist or color-enthusiast to the core, both of these curations are sure to add a unique and personal touch to your living space. And supporting women creatives is always a solid excuse for a little home refresh, right?