5 Healthy (But-Still-Delicious) Holiday Cocktails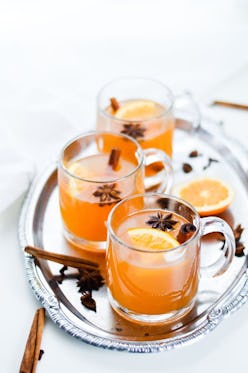 Holiday cocktails (like most indulgences this time of year) can skyrocket your calorie intake in a matter of sips. And while boozy peppermint hot chocolate and bourbon-spiked eggnog are heavenly, such splurges can be the gateway to a season's worth of bad habits. Instead of swearing off the merriment, mix up one of these light-but-still-delicious spirited treats. Now you can enjoy yourself without a side of guilt.
Sip, Sip, Hooray
Alpine Hippie
This super-light cocktail from Minibar has a hint of pine for a holiday sip that packs big flavor.
Ingredients
1 oz Zirbenz Stone Pine Liqueur of the Alps 1 oz Clear Creek Cassis 1/2 oz fresh lime juice Ice Soda water
Combine first 4 ingredients in a shaker. Shake until cold, then strain into a flute and add a dash of soda water.
Skinny Almond Mylk Eggnog
Chomp in Santa Monica celebrates the holidays with a take on eggnog that is all kinds of delicious and dairy-free to boot.
Ingredients
2 1/2 cups Chomp Almond Mylk 1 tsp vanilla 2 eggs 1 egg white 1/3 cup sugar 1 tsp cornstarch 4 oz bourbon Cinnamon, to taste Nutmeg, to taste
Heat a small saucepan over medium-low. Add Chomp Almond Mylk and vanilla, then heat to a simmer—do not bring to a boil. In a large mixing bowl, whisk together eggs, egg white, sugar and cornstarch until frothy. Add bourbon to milk mixture. To temper, add about 1/4 cup milk mixture to egg mixture, whisking quickly. Add another 1/4 cup and whisk again. Tempering allows liquids to come to the same temperature, so eggs don't curdle. Add cooled-down egg mixture to milk mixture, and whisk to combine. Stir frequently until it begins to thicken, 6-8 minutes. Sprinkle with cinnamon and nutmeg to taste. Serve warm or chilled.
Holiday Fir
Maru bartender Matthew Biancaniello stays on the lighter side with this low-alcohol, white-pine-infused vermouth cocktail.
Ingredients
3 oz Dolin Dry Vermouth infused with two 2-inch white fir pine branches Pinch of cinnamon 3/4 oz agave 3/4 oz lemon juice 1 oz persimmon juice Ice Dried persimmon, for garnish
Store white fir pine branches in an airtight container with vermouth for 24 hours. Remove branches and discard. Combine all ingredients (except garnish) in a shaker. Shake and strain over ice, then pour into a double old-fashioned glass. Garnish with dried persimmon.
Three Miracles
While this cocktail from Gracias Madre's Jason Eisner is definitely on the boozy side, it's a refreshingly light sip that relies on organic ingredients for your inner health nut.
Ingredients
2 oz botanical mezcal (juniper-infused) 3/4 oz simple syrup 3/4 oz lime juice 1 bar spoon absinthe Spherical ice cubes Compasaldo Moscato 1 mint sprig
Measure mezcal, simple syrup, lime juice and absinthe into a shaker. Shake and strain into a collins glass with 3 spherical ice cubes. Top with a quick pour of Compasaldo Moscato. Garnish with mint and a black-and-white striped straw.
#003
Birch's bar manager, Gaby Mlynarczyk, uses dairy-free toasted coconut milk to whip up a delightfully boozy version of hot chocolate sprinkled with a bite of chili flakes.
Ingredients
3 1/2 oz milk of choice 1 oz Ghirardelli chocolate syrup 1 oz mezcal 2 dashes Scrappy's Firewater Bitters 1 oz chartreuse 1 tsp crème fraîche Chili threads or cayenne pepper, for garnish Toasted marshmallows, optional
Combine milk, chocolate syrup, mezcal and bitters in a saucepan and heat through, but do not boil. Into heat-resistant glass, pour chartreuse and add hot chocolate. Top with crème fraîche. Garnish with chili or cayenne. Skewer a couple of toasted marshmallows on the side for dunking.