Collective Retreats Vail Delivers The Ultimate Luxury Glamping Experience
The great outdoors has never been chicer.
Collective Retreats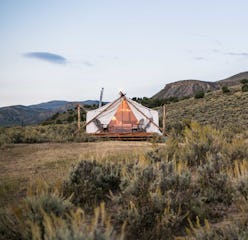 While it seems as if everyone is enjoying a European summer at the moment, there are plenty of other great vacation options that require a much shorter flight. I recently decided to break away from the mold and try something new — for me, anyway. While I can appreciate nature, I am a bit of a self-proclaimed "city girl" and a true New Yorker who has never been one for camping. However, something in me shifted when I came across luxury camping resort Collective Retreats, Vail. It provided all of the natural elements I wanted to immerse myself in while still incorporating an elevated experience (no hunting and gathering or having to purify my own water just yet).
Recently, Collective Retreats partnered with The Sebastian Vail for The Colorado Escape Package, which offers guests the opportunity to experience the wilderness of Vail with the Collective's Luxury Camping Retreat in tandem with the upscale accommodations of the luxury hotel, bringing the best of both worlds to travelers seeking a unique stay in this iconic destination.
This balance fit my travel plans to a T. While my intention was to have a rugged and unplugged camping experience, I know myself well enough to be aware of the fact that I need to be slowly submerged into the great outdoors. The Sebastian Vail served as the perfect buffer, helping me adjust to the elevation of the mountainous Rockies. As part of my package, I stayed at the stunning resort for the first two nights of my experience. Fully equipped with all the right amenities, The Sebastian has a beautiful pool and hot tubs as well as a full-service spa that helped me truly decompress and get into vacation mode. I was traveling with a large group, which included my partner, my best friend, her partner, and their 2-year-old child, so I was happy to see plenty of suite options and accommodations onsite for larger groups or families.
After our hotel stay, it was time to get to Collective Retreat's luxury campsite, which was about 45 minutes away from The Sebastian. When we first arrived to the campsite, I was in awe at how beautiful the space was. A spacious pre-pitched tent with a plush, cozy bed was waiting for us when we arrived. (There was a thunderstorm one night during our trip, and I'm happy to report the tent was durable and secure enough to keep us dry, safe, and peacefully sleeping.) With a private bathroom and shower located in a separate tent, any worries I may have had regarding unpleasant "glamping" bathrooms dissipated. As someone who likes to preplan any and all details ahead of a new experience, it was a breath of fresh air to stay with Collective Retreats and have everything pre-prepared and thought out well in advance for me.
On our first morning on the campsite, we woke up to the sound of horses galloping on the other side of the property. The accommodations were near a ranch and stable, perfect for riding enthusiasts. Though I didn't partake this time around, it'll be something to add to my list for a return trip. That said, there were plenty of activity options within this experience and while I certainly felt relaxed, there was never a moment of boredom. Surrounded by the beauty of the rugged landscape and the Rocky Mountains, I initially decided to take the opportunity to go on a Riverwalk hike with my friend and her child who were traveling with me while the rest of our party took part in some fly fishing in the waterways nearby. The trail had little to no elevation and was paved and pet-friendly, making it easy for any skill level. Our walk was even customizable: While the trail is quite expansive and extends throughout Colorado, our host Kelly helped us to select a portion that best worked for us that day.
With food being an integral part of any experience, I made a note of some of the restaurants in Vail I wanted to try on this trip. The town is known for its culinary offerings, and some of our highlights included restaurant Leonora and Frost Bar — both of which are located at The Sebastian, which we tried out at the top of our trip. During our experience with Collective Retreats, we were given the opportunity to make our own meals with the handcrafted barbecue boxes provided by the nearby Three Peaks Lodge. As a pretty clean eater who loves to cook at home, the idea of playing chef in an outdoor setting was exciting. With the clear instructions and ingredients provided by Collective, we were able to whip up a beautiful culinary creation that rivaled some of my favorite meals. We made burgers and steak and chicken kabobs, with the men in charge of grilling, and we paired the entrees with sides like potato salad and corn on the cob.
Throughout our time on the campsite, we had the opportunity to enjoy a range of activities, like the Branding and Bubbly experience hosted by Collective's culinary team. Each person was given a wooden cutting board to brand with a hot iron as a memento of the experience, while enjoying a robust charcuterie board and bottle of wine. The demonstration was fun and perfect for our small group. On our last night, we tried beer poking, a historical craft that spans some 400 years. The method goes like this: After heating a short metal rod, we dipped them into our cold beers for a few seconds, caramelizing the sugars in the beer to create a creamier texture and warm the drink. While a unique and unexpected experience, it proved perfect for a summer night of imbibing under the stars.
After a beautiful stay at Collective Retreats Vail, I certainly am glad to have skipped out on a European summer. Sometimes, the most beautiful and memorable getaways are just a stone's throw away.