You Can Book Claude Monet's House On Airbnb — And It's Really Affordable
Los Angeles Area Rancho Equestrian. via Airbnb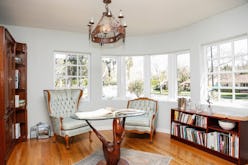 Travel is about more than just the destination — it's about the entire experience. While having a place to lay your head used to be an afterthought, vacationers are now seeking lodging that's as memorable as the rest of the trip. From living like royalty in castles to sleeping in pods under the stars, wanderlusters of all kinds can find a place to suit their fancy, as well as their budget. As for those wanting to emulate the lives of the rich and famous — particularly when it comes to pop culture legends — there are a handful of celebrity homes on Airbnb that radiate artistic vibes and old Hollywood glam.
Yes, you can get a taste of the good life (even if it's just for a little while) by booking a home where a famous icon once hung their hat. From John Steinbeck's writer's studio, to a cabin frequented by Jimi Hendrix, you can spend some time in these historical homes for an experience like you've never had before. And for some, these dwellings might be more than a unique place to stay; it's possible they'll provide the spark you need to get the creative juices flowing.
This quaint studio in Pacific Grove, California is where author John Steinbeck would escape to conjure up some of his best ideas in the 1940's. For authors struggling with a bout of writer's block, this may be the perfect solo getaway to hunker down and get started on your next masterpiece.
Literary fans in search of a bit more space may prefer to stay in Steinbeck's cottage for $215 per night, instead. Located on the same property as the studio, it features four bedrooms, cathedral ceilings, and a mix of modern updates with period decor. But despited being a bit airier, "taller guests will need to mind their heads" according to the description.
You can holiday like a star (circa mid-1900's) in Bing Crosby's former hacienda, located in Palm Springs, California. Renovated with today's amenities, this 3,200-square foot dessert oasis features touches of vintage decor, as well as mountain views, a stunning swimming pool, and beautiful landscaping.
While lounging poolside, you can mix up a cocktail at the on-site cantina, complete with a wet bar, ice maker, and nearby citrus trees for fresh garnishes. After the sun goes down, head to the indoor screening room for a movie experience like no other.
Artists, add Giverny, France to your travel bucket list, with a stay at this historic house. It's said that Claude Monet purchased it in the late 1800s, and according to the listing, he thought the property's garden was perfect for planting vegetables. Legend also has it that the home inspired the painting "The Blue House" by Guy Rose, a fellow impressionist from California and a friend of Monet's.
While this all may be hearsay, you'll get your fill of (verified authentic) Monet during your stay in the village. Head to the Claude Monet House and Gardens, including the sprawling home-turned-museum, where the famed artist definitely lived for 43 years.
Channel your inner Jimi Hendrix at the Garden Gingerbread House in Makawao, on the island of Maui in Hawaii. The guitar legend stayed at here in 1970 while filming "Rainbow Bridge," and nearly 50 years later, you may still feel his rockstar vibes.
But those less musically inclined will still appreciate the rustic features of this unique listing. Its off-the-beaten-path spot gives visitors a quiet taste of "real Maui" while still being a short drive from downtown. Perhaps Hendrix was in search of solace when he stayed in this garden-framed cottage.
Evoke old Hollywood glamour on a budget at this gorgeous listing in Los Angeles. Starlett Ava Gardner and musician Artie Shaw were only married for a year in the mid-1940's, but during that time, they dwelled in this beautiful home.
Updated for modern life, special features of this listing include a spacious patio area, an in-house library, and a music room complete with vintage touches. The property also has a stable, where equestrians can board their horses or rent them at the nearby Los Angeles Equestrian Center. For those wanting to rub elbows with today's celebrities, hot spots like NBC Studios, the Universal City Walk, and the Hollywood Walk of Fame are just a short drive away.
While not an Airbnb listing, those with a taste for the macabre might be brave enough to book a stay at this home-turned-B&B in Fall River, Massachusetts. The house was the site of a grizzly double axe murder in 1892, and Lizzie Borden was famously (or rather, infamously) acquitted for the murders of her father and stepmother.
Preserved in all its 19th-century splendor, you can stay in this former home, and even in the rooms where the bludgeoned bodies were discovered. However, if you're decidedly a die-hard Airbnb fan (get it?), or you're just too spooked to spend the night, visit the museum by day, then check in to these nearby accommodations that are less likely to be haunted.