The Best Winter Holiday Towns For Those Who Want To Lean Into The Season
Daniel.Candal/Moment/Getty Images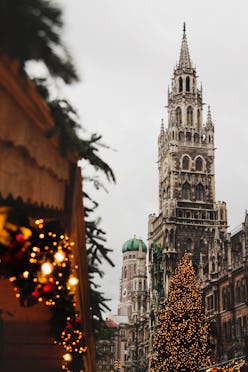 Like everything else this year, the holiday season is sneaking up quickly. So quickly, in fact, you might feel a bit unprepared for all the jolly festivities and cheer. Luckily, you don't necessarily need to deck your home in Christmas garb to feel the spirit of season. In fact, a quick — or not-so-quick — getaway to a popular holiday town can be just the ticket to getting you in a merry and bright mood. Luckily, there are plenty to choose from around the world, from far and away to (practically) right in your backyard.
Yes, we're referring of course to those renowned Old World Christmas markets in European countries like Austria and Germany that essentially become snow-capped holiday epicenters for travelers who want to immerse themselves with the sights, smells, and tastes of the season. Sipping mulled wine and snacking on candied apples and rich strudel while perusing the brightly lit market stalls for unique treasures is a bucket list experience to be sure. But there's also plenty of seasonal joy to be had in more metropolitan cities like London and New York, where the holidays translate to elaborate tree-lighting ceremonies, ice skating in city epicenters, and luxe shopping and dining.
So, if you're struggling to get into the holiday spirit already, perhaps it's worth booking a ticket to one of the top holiday towns below that are sure to help you channel your inner elf in no time.
Vienna, Austria
If you're in the mood for time travel, take a trip this holiday season to Vienna, where the festive atmosphere and events will transport you to Old World Europe. "For a true winter wonderland feeling, visit Vienna," says Fora Co-Founder Henley Vazquez. "The Christmas Markets will make you feel as if you've just stepped inside a snow globe." Indeed, the world renowned winter shopping experience — which opens mid November — is a true attraction for the senses, from the smells of local cuisine like fried sausages, melted cheese, roasted almonds, and toffee apples to the thousands of twinkling lights covering every inch of the city.
Rovaniemi, Finland
If you're not a believer in Santa, chances are you will be after a trip to Finnish wonderland that is known as the big guy's home base. "What's more iconic than Santa's hometown?" says Vazquez. "And while you're saying hi, spend the night in one of Kakslauttanen's famous glass igloos." Naturally, a north pole-inspired paradise will include all the bells and whistles of the storybook local: think sleigh rides, snowmobiling, skiing, Santa Claus village tour, and dinner under the Northern lights.
London, UK
London at Christmas might feel a bit too on the nose. That's because it is — but in the best way. The city, home to holiday-adjacent literary icons like Harry Potter and Peter Pan is nothing short of magical in the winter time. Its historic cities and epic landmarks are dripping in lights, the streets are filled with holiday markets, and Trafalgar Square houses the world famous Christmas tree people from across the globe travel to see.
Munich, Germany
If you have a dream or interest in visiting a traditional Christmas market, Munich might be your best bet for a truly authentic experience. "Munich is a captivating holiday destination with its magical blend of tradition and modernity," explains Fora Advisor Melanie Pink, noting the renowned Christkindlmarkt as a must-do attraction. "You can savor delicious Bavarian cuisine and warm mulled wine while exploring the charming streets, admiring stunning holiday decorations, and enjoying various seasonal events. Munich's rich cultural heritage and picturesque winter scenery make it an ideal choice for an unforgettable holiday experience. After exploring the city, venture over to the alps for some holiday skiing." Done and done.
Old Quebec City, Quebec, Canada
Americans don't have to venture across the pond for an ancient experience. Fora Advisor Amanda Bates explains that Canada's Old Quebec City offers snowcapped, 17th-century architecture, and quaint storybook vibes. (It's also super convenient in that it's an under two-hour flight from NYC!) "The town is adorable and very Insta-worthy, but their charming German Christmas Market is the main attraction with more than 90 stands and 5 venues, hosting a variety of adult and family entertainment, even the return of Krampus," says Bates, referring to the horned, anthropomorphic figure from European folklore. "This is the perfect destination to feel the Christmas spirit and shop for one-of-a-kind handmade gifts, without the jet lag."
New York City, USA
Channel your inner Kevin McCallister with a classic trip to the Big Apple, where the city truly comes alive with holiday spirit. Even a lifelong New Yorker can't help but love the festive atmosphere that envelopes the city from November to January," says Vazquez. "Walk along 5th Avenue to see the department store window displays (Macy's was the first to start the trend back in 1874). Visit the Holiday Train Show at New York Botanical Garden or catch a glimpse of the Rockefeller Center Christmas Tree on your way to see the Radio City Rockettes." And for real Home Alone vibes, swing by the Plaza Hotel for ice cream and/or a martini.
Charleston, SC, USA
For a slight change of pace, head down south for a long weekend to Charleston for its take on holiday celebrations. "The city's historic charm combines with festive cheer to create a magical experience for visitors," says Pink. "The hotels here spare no expense in decking their halls with extravagant Christmas decorations, from grand, sparkling Christmas trees in their lobbies to elegant garlands and wreaths adorning every corner. The city itself comes alive with enchanting displays of lights, and the warm Lowcountry hospitality extends into hotel festivities, offering delightful holiday-themed events and special touches that make Charleston the perfect place to celebrate the season in style."