These Wines Make The Best Holiday Gifts
'Tis the season to be merry.
Avaline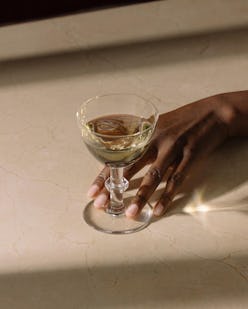 It's holiday party season again, and while the seemingly endless festivities sure are fun (or exhausting, depending on who you ask), for many of us, the gifting part is, eh...not so much. Wine is always a stellar back-pocket offering to bring for those hosts who drink, but knowing how to choose a really great bottle can be a challenge if you're not well-versed in that kind of thing, and it's especially hard if you're not sure what kind the receiver likes. As John Cerasulo, former wine director for L.A.'s Anajak Thai and current Southern California sales rep for Thatcher's Wine concedes, it's difficult to pinpoint a general crowd-pleaser when it comes to wine because, of course, everyone's tastes are different. That being said, there are a few factors that can help you make the best decision when looking to gift a knock-your-socks-off bottle of vino for the holidays.
For starters, both Cerasulo and John Fredericks, director of operations and a partner at Casino, Casetta, Primo's and Mr. Fong's in New York, encourage buying from smaller, artisanal makers who emphasize good farming practices no matter what kind of wine one prefers. If you're stuck on whether or not you should go for a natural or classic variety, Fredericks advises targeting wines that straddle the line. "...[S]ome of my favorite wines come from winemakers that are able to achieve a more classical style through minimal intervention in the field and the cellar," says Fredericks. "Beaujolais is a great example of this. [I]t's readily available at almost all shops and is just great for the holidays." Cerasulo suggests opting for an under $100 bottle of grower Champagne for your next celebration i.e. Champagne that doesn't rely on the mass production of fruit (most of the big houses farm this way), but where the grapes are instead carefully tended to by one person. These types of wines feel special when gifted because of the intention behind them. As Fredericks says, "...[T]he best winemakers inject a lot of love into their wines, and these are the bottles that work best as gifts."
Putting your focus on the wine's story instead of worrying whether or not it's inherently up the receiver's alley is another hot tip. Fredericks advises picking a bottle "that has interesting talking points or a cool personality behind it. For both wine beginners and experts, these sorts of details can be a lot more compelling than tasting notes." This means chatting up the employees at your local wine shop who can help to point you in the right direction. A few "don'ts" when it comes to wine-giving: while this may feel counterintuitive, Cerasulo would "...never buy wine for a true, hardcore collector because it's so specific and personal...[it's] also expensive." And, please, avoid giving Prosecco Fredericks pleads. "[W]ith a few exceptions, there may be nothing more boring."
For all of our expertly curated holiday wine picks, keep reading. We've got 12 essential bottles ripe for the drinking.