Intimidated By Champagne? This Guide Will Turn You Into A Pro
Courtesy of Cravan / Moët Hennessy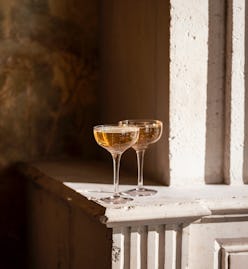 We may receive a portion of sales if you purchase a product through a link in this article.
There is, arguably, no other wine that elicits as much of an emotional response as Champagne does. The mere echo of a cork pop is enough to command the attention of a room, as is the sight of bubbles flittering upward in an elegant glass. Champagne is steeped in history and heritage and never seems to fade in relevance (in fact, demand for bubbly is soaring, particularly in its top export market: the United States). Despite all of this, there is a certain air of intimidation surrounding Champagne — after all, rare bottle prices can spike into the thousands and the winemaking process behind it all is admittedly complex.
But ask any true Champagne enthusiast and they'll assure you it's a category worth geeking out over. Not only is popping bubbly well-suited for a celebratory occasion, it's also the perfect wine to pair with food. Have it on New Year's Eve or enjoy it with dinner at home on a low-key Wednesday night, once you realize the true potential of this incredible region you'll understand why it remains the most prestigious, versatile sparkling wine in the world. Ahead, TZR's expert-led guide to everything Champagne from where it's made, what it tastes like, and how to enjoy it (spoiler: there are no wrong answers).
What Is Champagne?
A quick definition: Champagne is a sparkling wine made in the Champagne region of France. There is just one appellation (Champagne AC) and in order for a wine bottle to bear the name Champagne it must be made here — nowhere else. The three primary grape varieties used in Champagne production are Pinot Noir, Meunier, and Chardonnay. The traditional technique used for Champagne is referred to as méthode champenoise and it involves double fermentation, which gives the wine its bubbles.
What's the Champagne Region Like?
Champagne has a cool continental climate and because of this growers are often faced with challenges including but not limited to: rain, cloud cover, winter freeze, and spring frosts. This might have you begging the question: Why make Champagne here? The answer: acidity. As a grape ripens, its sugar levels increase and acidity decreases, so somewhere that is cooler like Champagne will produce grapes with high acidity, which is key to making an excellent wine.
Other elements regarding terroir also play a significant role. "The composition of the soil is predominantly limestone (75% of chalk, marl, and limestone proper) and this type of terrain provides good drainage," Guillaume Roffiaen says, who is the Chef de Caves of Champagne Nicolas Feuillatte. He also points to altitude and aspect as defining features of the vineyard (the former ranging from 90 to 300 meters and plantings on south, southeast, and east-facing slopes).
How Is the Appellation Laid Out?
Although there is just one appellation here (Champagne AC) it is broken down based on geographical subregions. "There are around 318 villages in the Champagne region and under the historic system called the Échelle des Crus (which literally means ladder of growth)," Roffiaen explains, adding that each village is classified based on a rating of 100% (Grands Crus), 99% to 90% (Premiers Crus), and the remaining without distinction. Essentially, rather than specific vineyards being rated like they are in Burgundy, the entire village is rated (meaning there's bound to be exceptional sites within villages with lower ratings, and vice versa).
The five main departments where vines can be planted are Marne, Haute Marne, Aisne, Aube and Seine et Marne. "The most renowned sub-areas for producing specific type of grapes and bringing character to the wines are Montagne de Reims, Côte des Blancs, Vallée de la Marne, Sézannais, Vitryat and Côte des Bar," Roffiaen says.
How Do the Grapes Impact the Wine?
While there are lesser-known grape varieties permitted to be used in Champagne production such as Arbane and Petit Meslier, the vast majority of Champagne is made with the three already mentioned — below, a brief breakdown.
Pinot Noir: This is the predominant grape variety and accounts for the largest amount of plantings, Roffiaen says (mainly in the Montagne de Reims (Grands Crus) and the Côte des Bar in the south of the appellation). "It adds body and structure to the blend," he notes.
Menuier: This grape is the most common variety in the Vallée de la Marne and Massif de St Thierry. "It tolerates the most adverse weather conditions and brings fruitiness, roundness, and softness to the blend," Roffiaen says.
Chardonnay: A white skinned grape that is the preferred variety in the Côte des Blancs. "Being slower to age, it is an excellent addition to a future vintage blend," Roffiaen "It brings finesse, freshness, and minerality to the wine."
What Are the Different Types of Champagne Producers?
There are three types of Champagne producers and the savvy drinker can spot this indication on the bottle (albeit via very small printed letters).
RM or Récoltant-Manipulant: Also sometimes referred to as grower or artisan Champagne, this means the wine has been made entirely by an independent grower exclusively from his or her own grapes.
NM or Négociant-Manipulant: "This type of producer is defined by a Champagne house purchasing the majority of the grapes, musts (juices) or wines to make their Champagne," Roffiaen says.
CM or Coopérative de Manipulation: This is when the Champagne is made from grapes cultivated by wine-grower members, like Champagne Nicolas Feuillatte, which receives grapes from over 5,000 winegrowers spread across the appellation.
Where Do the Bubbles Come From?
If you've ever wondered where Champagne's illustrious bubbles come from it's the technique alluded to earlier called méthode champenois. "It's exclusive to the Champagne appellation and ruled by strict regulations," Roffiaen explains. First, the grapes must be picked by hand and the bunches have to be full when pressed. The first juice to come off the press is the purest and called the cuvée (this is what the best Champagnes are made from) and the remainder is called the taille. Lastly, after the alcoholic fermentation of the base wine and blending, a second fermentation takes place naturally inside the bottle. "This is accomplished by adding a mixture of yeast and sugar, called liqueur de tirage, to still wine. The bottle is then capped and ready to go to the cellars for aging," he says. During this aging process the yeast eat the sugar, causing alcohol and carbon dioxide to be released into the wine — and because this is happening inside a bottle and there's nowhere for the CO2 to escape, carbonation forms (aka bubbles).
What Does Champagne Taste Like?
In addition to getting its aromas and flavor profile from the grapes, Champagne also has a unique taste due to its extended aging on the lees (dead yeast), which happens in the bottle. This gives what's called autolytic flavors and these resemble yeasty notes such as biscuit, toast, and brioche. Non-vintage wines must be aged for at least 15 months (including at least 12 months on lees) and vintage wines must be matured for a minimum of 36 months (though most winemakers mature their wines for much longer than these requirements as it adds complexity to the Champagne).
What Are the Different Styles?
To understand the varying sweetness styles of Champagne you first need to understand dosage. "Dosage happens after the disgorgement," Royal Champagne Hotel & Spa's Head Sommelier Philippe Marques says. Disgorgement happens once the bottles have completed their aging, the dead yeast (lees) have been slowly filtered to the cap of the bottle through a process called riddling, and the lees are placed in a freezing liquid and expelled from the bottle. "Dosage replaces the volume of wine which has been lost during the process of separating the wine from its lees. The liqueur de dosage can be exclusively made of the same wine or sweetened." Below are a few common terms regarding residual sugar that might help inform your bottle selection.
Brut Nature: The driest (less than 3 grams)
Extra Brut: A maximum of 6 grams per liter
Brut: A maximum of 12 grams per liter
Sec: 17 to 32 grams per liter
Demi-Sec: 32 to 50 grams per liter
You'll also come across different styles of Champagnes depending on the grapes used in the blend, a few terms for that below as well.
Blanc de Blancs: This translates from French "white from white" and refers to a Champagne made entirely from chardonnay grapes.
Blanc de Noirs: "White from black," this refers to Champagne made from black grapes such as pinot noir and pinot meunier.
Rosé: This is when red and white wines are blended to create a pink-hued wine. It's worth noting that most rosé wines outside of Champagne are not made by blending red and white, but by leaving red grapes on their skins for a period of time before pressing.
How Do You Open It? And What Kind of Glass Do You Need?
If the idea of opening a bottle of Champagne gives you mild anxiety, it's for good reason — the pressure in an average bottle has around three times the pressure of a car tire. Understandably, opening it with caution (and know-how) is important. "Remove the foil so you reveal the cap, cork, and the cage around the cork," Roffiaen advises. "Twist the side of the wire six turns to undo the wire around the cork. Now, instead of turning the cork, grip and hold the cork in place and turn the bottle." While you're certainly entitled to a celebratory pop should you so choose, it's industry standard to aim for an almost silent phut sound.
As for the glass, Marques says it's time to ditch the coupe and flute glasses. "These do not allow a good Champagne to develop its flavors and structure correctly," he says. "I recommend using the same glasses you would use for a wine. Lighter style Champagne can be served in white wine glasses but do not hesitate to use big red wine glasses for Champagnes that are more powerful and mature."
Is It Bad to Put Champagne In a Cocktail?
"There are no rules when it comes to creating cocktails, only the ones you set yourself," Franck Audoux says, who is the founder and creative director of Cravan in Paris. His cult favorite cocktail bar now has an outpost in a 17th-century building in the historic district of Saint-Germain-des-Prés and is in partnership with Moët Hennessy. The menu? A Champagne-lover's delight — particularly the 'Royals' cocktails that incorporate heritage labels like Ruinart and Dom Pérignon and are conceived in close collaboration with each of the Cellar Masters.
"Royals are about obvious simplicity, which open towards aromatic complexity. They're made of two ingredients, one is Champagne and the other is an infusion focused around plants (infusions of seeds, leaves, and flowers)," Audoux explains. Of course, the novice cocktail connoisseur may not be able to whip up a Champagne cocktail at home that matches Audoux's creations, but incorporating herbal elements such as basil flowers or pine needles is a unique way to enhance the aromas of your Champagne (and a far cry from a mimosa).
What Kind of Food Should You Pair It With?
Despite being one of the most versatile food pairing wines in the world, many people still think of Champagne in a limited scope. "For many people across the world, and still even in France, Champagne is a pre-food drink rather than a pairing wine. Yet, there is no reason to relegate champagne to the aperitif," Roffiaen says. He suggests Blancs de Blancs with oysters, lobster, fish, and caviar and Champagne rosé with salmon, tuna, crab, prawn, duck, prosciutto, and light red fruit desserts.
"Less conventional pairings are equally delicious: I love French fries with Champagne," Roffiaen says. "Each crunchy-salty bite makes you want a sip and vice-versa. Steak is risky but works well with a rosé de saignée, such as our Palmes d'Or 2008 Rosé Intense, which is 100% Pinot Noir and cuts through the richness of the red meat."
If you're skewing sweeter, he notes that demi-sec is seeing a resurgence and is being rediscovered with food such as foie gras and spicy cuisine. "It is really versatile and can match an Indian or Thai curry, Cajun chicken, and even a tajine from Morocco."
Shop Champagne For All Occasions