The Best Thanksgiving Wines To Serve With Your Favorite Dishes
Guaranteed crowd-pleasers.
Marina Cavusoglu/Moment/Getty Images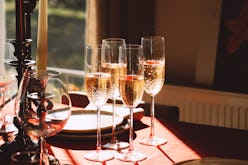 Thanksgiving is the time to come together with family, bask in gratitude for the blessings we've received throughout the year, and share an elaborate meal with loved ones. Whether you're an oenophile or a casual wine drinker, there's no debate that Thanksgiving dinner isn't complete without vino. With multiple courses, people with different tastes, and almost every flavor profile from soup to nuts on the table, picking the best wines for Thanksgiving can feel overwhelming. We've called in the experts to break down how to choose the right wines to pair with each course so you can save the stress for perfecting your family's secret stuffing recipe.
Matt Dulle, wine director at Spago Beverly Hills, says with so much going on on Thanksgiving Day, something helpful to keep in mind keep in mind is "versatility." He continues, "For some dishes, you need something crisp and refreshing, maybe something with some nice acidity to help cut through the fattier and richer dishes. However, you also need something that won't get washed out under the heavier flavors and can stand up to the more umami-driven items."
Because of the cornucopia of foods and flavors, you're not beholden to one type of wine. In fact, Sharon Fenchak, VP winemaker at Biltmore Winery, encourages people to purchase an assortment. "Thanksgiving is a time where you don't have to be afraid of mixing red, rosé, sparkling, or white wines together," she says. She adds a caveat: "I recommend prioritizing wines that are overall lighter-bodied and higher in acidity so that nothing overwhelms your palette for not just appetizers, sides, and desserts, but also the main course."
Fenchak also advises that the wines be served in the "correct order" if you decide to pair them with each course. "Dryer wines should be served first, followed by off-dry, and sweeter wines last."
Our experts created an easy guide to the best Thanksgiving wines as well as tips on when to serve them during the meal.
Champagne & Sparkling Wine
"Champagne works well for Thanksgiving because the nature of the wine, with its bubbles, interacts well with traditional Thanksgiving dishes, counterbalancing the rich and heavy flavors," Moët & Chandon's wine experience manager, Marie-Christine Osselin, says.
Dulle agrees and suggests starting the meal off with bubbles, whether that means hors d'oeuvres or appetizers in your household. It also provides the versatility he mentioned earlier that can stand up to heavier flavors, so it can be sipped and savored throughout the meal.
Rosé
Fenachak is partial to serving rosé for this holiday because it helps balance traditional elements of the meal. "Thanksgiving foods are typically savory and rich in butter, cream, salt, and spices, the wines should be approachable and refreshing with a pleasant amount of acidity to enhance the dishes," she says. She also points out that it's a good compromise for guests who enjoy both red and white wine.
Chilled Red
For those looking to put a twist on tradition when it comes to wine, a chilled red is a versatile, yet unique choice. Jeremy Carter, winemaker and founder of Tarpon Cellars, shares that chilled red pairs well with smoked turkey, "as that will bring out some of the savory qualities in the wine, and anything cranberry-related like the sauce or a salad." He explains that "the acid in a chilled red can cut into the richness of almost any dish, pairs nicely with all meats and cheeses, and does well with even some sweeter dishes like sweet potatoes," making it a choice fit for (almost) the entire meal.
Reds
When it comes to red wines, our experts agreed that pinot noir is a top choice for the holiday. Fenchak says it's perfect for a protein-based main course because "[it] has red fruit flavors with earthy undertones which perfectly complement the spice-driven and herbaceous flavors of classic Thanksgiving dishes. Plus, pinot noir has high acidity with low tannins, making a versatile pairing for an array of recipes."
Chris Kajani, president and winemaker of Bouchaine Vineyards, also chose pinot noir as a "great crowd-pleaser" for Thanksgiving because of "the brightness and layers of flavor without heaviness on the palate."
Another red option for the occasion, Dulle says is syrah, noting he loves "the black pepper element that comes out when it isn't too ripe or heavy." And lastly, a "lighter Grenache (e.g. Côtes du Rhône) or a Cru Beaujolais also work well," he says.
Whites
Kajani sings the praises of a dry riesling for Thanksgiving, citing its "depth of flavor, along with its tension and vitality, make it an incredibly versatile wine for both guests and foods." She suggests pairing it with cheese trays, grandma's stuffing, turkey, and pumpkin pie. "The tangy complex palate shows bright acidity, which is what you need to provide contrast to the heady and decadent Thanksgiving food," she adds.
She also highlights that "aromatic whites like riesling and gewurztraminer" pair perfectly with the delicious bird main course.
Dulle throws one more white wine into the Thanksgiving ring. Made from the Austrian grape, Grüner Veltliner is "a chameleon and [it] can adapt to a wide range of flavors," he says.
Dessert Wines
The night ends on a sweet note with dessert, and wine shouldn't be excluded from the last decadent course. Dulle advises serving a fortified wine like Madeira, port, or Sauternes, noting they pair well with different flavors of traditional Thanksgiving pie.
Thanksgiving Wines Rules Of Thumb
Clearly there's a plethora of delicious options when it comes to wine for our Thanksgiving table, but once the shopping is done, there's one more day-of trick to elevate your meal into a feast. Kajani suggests decanting the wine to remove impurities and allowing it to breathe for at least 20 to 30 minutes before consumption. "Adding oxygen to your wine upfront allows the wine to open and be more alive," she says.
Ahead, expert-approved wines that will keep your hearts and glasses full throughout your feast.