The Best Nightcap Drinks That Are The Stuff Of Dreams
Shutterstock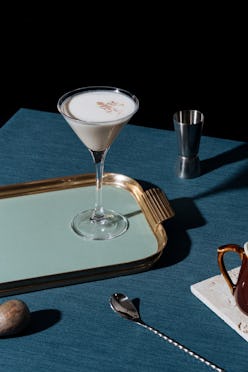 We may receive a portion of sales if you purchase a product through a link in this article.
Finding a moment of tranquility before drifting off to sleep can feel like an elusive dream. Enter the nightcap, an alluring elixir that quiets the mind while tantalizing the taste buds. But what makes a drink an actual nightcap instead of a regular pre-bedtime boozy beverage?
Gareth Howells, North American single malt whisky ambassador for Bacardi USA, breaks the beverage down to basics: "A nightcap is any drink that is consumed before going off to bed, intended to relax and aid in sleep." He continues, explaining that there aren't any "hard and fast rules" determining a drink in the category, but they usually have a few defining traits. "Typically, they bring some warmth to the body and contain rich and comforting flavors." These qualities are important as they help induce relaxation of the body and mind, lulling a person into a state of tranquility. Howells points out that non-alcoholic drinks like tea and warm milk can also be considered nightcaps, but on the alcoholic side of the spectrum, these libations usually fall into one of these categories: dark spirits, fortified wines, and liqueurs.
So why are nightcaps called as such? According to Howells the sleepy sauce's name and origins go way back. "The term 'nightcap' itself can be traced back to the late 18th and early 19th century, relating to headwear worn to bed to keep heads warm for a better night's sleep. As time went on, it was used more metaphorically to describe the type of beverage enjoyed right before retiring to bed that would evoke the same feeling of restfulness," he says.
Though most things in the alcoholic realm have evolved since that time, Howells doesn't believe that the nightcap greatly has, and that's a good thing. "While different cultures have their own traditions and variations of the nightcap, the ritual still occurs at the same time and for the same reason," he shares. There are a few more options today, which has created some diversity in the category and allows people to personalize their nightcap experience based on their preferences, but in Howells' opinion, nightcaps have proven that they can stand the test of time, just as they are. "It's one of those traditions that has transcended the ages," he muses.
Speaking of personal preferences, there's no right or wrong way to enjoy a nightcap, but Howells outlines how each type of nightcap is usually consumed. "[Dark] liquors and liqueurs are often sipped neat or with a small amount of water or ice to enhance the flavors and aromas," he says. For those that like to elevate their nocturnal libations, "They can also be incorporated into cocktails for a bit of added complexity." For oenophiles, "[Fortified] wines are typically enjoyed in a glass, often at room temperature or slightly chilled, depending on the wine type," he adds.
Dark Spirits
The word nightcap usually conjures images of brown liquors like scotch, whiskey, bourbon, brandy, and Cognac. As Howells mentioned, they are usually sipped straight, either neat or on the rocks when imbibed in the evening. These brown spirits all possess the warm flavor and feel that provide comfort but as of late, one has gained momentum over the others. "Most recently, people have been coming back to aged, single-malt whiskies that are indicative of the classic nightcap visual," Howells says. The catalyst for that, as it was for many other recent shifts within the spirits world was the pandemic, producing more spirits aficionados and at-home mixologists. "People have had more time to experiment with these premium bottles and identify the ones that fit their nightcap routines and preferences," he shares.
Fortified Wines
Fortified wine is a wine that has a distilled spirit, usually brandy, added to it to increase the alcohol content, thereby fortifying it. Ana Real, a winemaker at Alvaro Domecq winery shares that the higher alcohol content is what makes fortified wines an ideal nightcap because they are "a great aid for relaxation and digestion."
The most popular varietals of fortified wine are sherry, port, Madeira, and Marsala. As with regular wine, Real shares that these wines from Jerez, Oporto, Madeira, and Marsala (respectively) are "mainly differentiated by the geographical origin, the variety of grapes used, the fermentation process and above all by the particular aging process of each style."
For Real, nothing beats sherry when it comes to a fortified wine nightcap. "Sherry stands out for its tremendous variety of styles as we have sweet, savory, and dry all in varying grades," she explains. "Each style has unique characteristics and very diverse profile flavors and aromas." She does note that the best choice for a fortified wine is only dependent on the individual's taste, whether they prefer sweet, bitter, or in-between because they all "share similar alcoholic graduations."
Liqueurs
Any liqueur can be poured for a nightcap but the most commonly consumed for this particular purpose are cream liqueurs, particularly those made of Irish cream. In addition to its warm flavor and sweetness, the thick, rich, creamy texture boosts its soothing nature, making it an extra enticing beverage choice before retiring for the evening. Cream liqueur can be consumed in a multitude of ways, but the most popular method is to blend it into coffee, creating a smooth, delicious coffee upgrade. Non-java lovers can sip it straight or over ice and while it can satisfy a sweet tooth on its own, it can also be poured over ice cream for those that want to indulge in a more decadent dessert.
Nightcap Rules Of Thumb
When it comes to shopping for a nightcap, there's no need to stress. Howells encourages experimenting when it comes to dark spirits until you find one that you like and then even experimenting within that category. "If you love a 12-year-old Single Malt Scotch, try an 18-year-old next time," he suggests.
For those looking to add fortified wine to their nightcap repertoire, Real advises that before you hit the store, it's helpful to familiarize yourself with the different styles available, but more importantly to look at the bottle for useful information. "Look for recognized appellations of origin such as D.O. Jerez for Sherry. Also, focus on the category or style of the wine while keeping in mind the information given over the age or in some cases vintages of the wine as this is a key element," she recommends. Another distinction between regular wine and fortified wine is that with fortified wine, price is more of an indicator of quality. "As a general rule, the more expensive a bottle is, the better the quality of the fortified wine will be," she says, adding the caveat, "This is not always the case and one can sometimes find hidden gems that hugely overdeliver in quality for the price."
Elevate your evening routine and get ready for sweet dreams. Ahead, expert-approved nightcaps that make last-call feel luxurious.