The Best Fall Wines To Ignite Those Seasonal Vibes
@inkgradeestate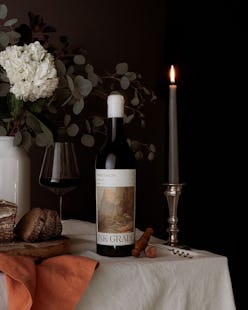 We may receive a portion of sales if you purchase a product through a link in this article.
As soon as the leaves start changing color and the weather gets cooler, it's time to put away those beloved shorts and bathing suits and replace them with cozy sweaters and clunky boots. Just like your wardrobe changes and evolves with the seasons, your wine cabinet should get a seasonal fall update as well. But saying goodbye to summer sips doesn't have to bring on a grape depression (see what we did there?). There are plenty of great fall-friendly wines that will help you embrace the crisp season.
Katie Nelson, vice president of winemaking at Ste. Michelle Wine Estates, explains that during the summer, we want lighter-bodied, high-acid wines like Rosé and Sauvignon Blanc because of the heat. But the chilly weather inspires cravings for wines that go with heavier, heartier dishes. "Full-bodied wines with a higher alcohol content are always popular in the fall," she says. "There's something about curling up on the couch with your favorite book, a cozy blanket, and a glass of red wine to warm you up… it just feels right."
Matt Taylor, winemaker at Ink Grade Estate in Napa Valley, part of the Lawrence Wine Estates' portfolio, expounds upon Nelson's sentiment and shares that varieties that pair well with the fall generally express complexity and depth of flavors. "This is especially key with wines that have also aged a little, giving them time to develop the notes that pair so well with meals during this time of year," he says, adding, "Fall wines tend to be more food friendly and versatile."
Ahead see the best wine options for the months ahead and a quick guide on how to best enjoy them.
Red Wines For Fall
Robust, full-bodied wines most often associated with the season tend to be red varietals.
Cabernet Sauvignon
This wine is cozy or, as Taylor says of the red blend, "[it] feels like a hug from the vineyard with an expression of the terroir with spice and earthiness." It features flavors of dark fruit, tobacco, oak, vanilla, and spice. "The higher alcohol and bold flavors bring a nice warmth," Nelson chimes in. Its rich texture makes Cab a go-to for steak, lamb, or an equally decadent chocolate dessert.
Syrah
Nelson also recommends Syrah (or Shiraz in some parts of the world) to accompany a spicy dish like chili. It offers flavors of blackberries, plums, black pepper, and smokiness to balance out heavier meals and give them some added zip.
White Wines For Fall
Just because it's fall, don't be so fast to bid adieu to white wine. There are a couple varieties that go nicely with your favorite seasonal meals and flavors.
Chardonnay
When you think of fall tailgating, Chardonnay may not be at the top of your list, but it should be. "Many Chardonnays are rich and hefty, pairing well with heavier dishes," Nelson says. She even goes so far as to recommend the variety with chips and dip. The acidity of the wine is refreshing and can cut through heavier fall delicacies with its buttery notes while still complementing sweeter flavors like pear, pumpkin, and apple.
Riesling
For Nelson, "Riesling can be paired with anything," making it a choose-your-own-adventure fall wine. She cautions that "Rieslings can be sweet, [or] they can also be bone dry." Her preference is on the drier side of the spectrum, but all variations possess a zesty citrus finish, bringing balance and vibrance.
Fall Wine Rules Of Thumb
When it comes to shopping for fall wines, Taylor finds it helpful to think about the bigger picture when shopping at the store and not get caught up in the intricacies of flavors. "Fall tends to involve a lot of gatherings with friends and family," he says. "A beautiful bottle and label that conveys a story and a connection to the earth from where it is crafted can be a great conversation piece, as well as a great story to share with those who open it with you."
While there's no doubt that the above-mentioned wines are particularly complementary to fall flavors, foods, and weather, there's no reason to abstain from varietals you enjoy just because of the change in season. "All wines can be enjoyed throughout the year, but wines with a freshness and salivating quality can be more enjoyable in the summer as they complement the warmer weather. This doesn't mean you should discount them when it comes to fall," Taylor notes.
Nelson agrees that sometimes it's OK to throw out the rulebook and go with your gut. "If you enjoy it, you should drink it, no matter the varietal," she echoes, regardless of the date on the calendar.
That said, if you want to lean into some fall-focused wines, embrace autumn and ring in the new season with these expert-approved picks, ahead.