These Boutique Hotels In Paris Make For A Très Chic Getaway
They'll probably inspire your next vacation.
@lepigalleparis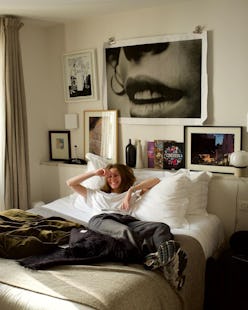 When it comes to fashion, few places in the world hold a candle to Paris (perhaps only New York City, London, and Milan come even close). However, it's not just the catwalks — or the sidewalks — that inspire visitors. Impeccable, polished presentation is such an inherent trait of this cosmopolitan destination that it extends well beyond the sartorial side of things. Beautiful design permeates the very fabric of the city. Aside from independent shops, big-name designer stores, and furniture showrooms, boutique hotels are some of the best venues to immerse yourself in authentic French aesthetics — from opulent Versailles-level ornamentation to pared-down contemporary cool.
Yes, a trip to Paris is always a good idea. But it's even smarter (and more Instagrammable) to book a room or splurge on a ridiculously gorgeous suite somewhere fabulous. Not sure exactly where to start? The French capital brims with lodging choices, so the paradox of choice definitely comes into play when planning a getaway. To streamline the process (so you can focus on other things like packing), we culled through the hundreds of overnight options to put together a list of the most stylish boutique hotels in the City of Light.
One of the hottest new hotel openings in Europe, Hôtel Dame des Arts immediately established itself as a haute spot on the Left Bank. Surrounded by sidewalk cafés and artsy enterprises, the cinematic Raphaël Navot-designed property feels right at home in the bohemian Latin Quarter but exists in this sort of seductively aspirational realm. Characterized by mid-century aesthetics and a free-spirited ethos that transcends eras, it's equally well suited for sleeping in and leisuring over a cup of coffee in bed as clinking bubbly alongside chic locals on the panoramic rooftop all afternoon.
Palace hotels on the Left Bank are exceedingly rare, which makes Hôtel Lutetia shine even brighter. Housed in a landmark building in Saint-Germain-des-Prés, this five-star grande dame oozes luxury with a refined atmosphere and Art Deco accents. A painted glass ceiling by Fabrice Hyber steals the show in Le Saint-Germain. Adorned with oversized frescos, Bar Josephine serves cocktails and caviar. Rooms exhibit the same dedication to resplendence with dark chevron oak floors and Carrera marble bathrooms. There's also a sanctuary spa for holistic healing rituals.
A newcomer to the city's hospitality scene, the aptly named La Fantaisie is a design lovers' dream from the creative mind of Swedish interior maestro Martin Brudnizk. His mastery of all things maximalist has long captured the hearts (and cameras) of everyone who glides through the doors of Annabel's in London — and it impresses again in this pretty-as-a-picture Parisian project. From the lush, landscaped garden to the atrium restaurant helmed by Chef Dominique Crenn to floral-wallpapered rooms and suites, it's a verdant and joyful oasis in Faubourg-Montmartre.
If you're looking for a fashionable home base in the heart of Paris, Hôtel Madame Rêve definitely ticks the box. Enviable address near the Louvre and Jardin du Palais Royal aside, it's a posh spot to spend some time that's filled with personality and charm. The use of precious woods echoes a retro approach to design that's both enhanced and simultaneously modernized by hand-picked furnishings and sumptuous fabrics in gilded tones. The rooftop is a see-and-be-seen favorite for well-dressed Parisians and travelers who go to sip cocktails and gaze at the skyline views.
Le Pigalle, a member of Design Hotels, has been the cool kid on the block, err in the neighborhood, for as long as it's been around. Influenced by the creativity of local artists, free thinkers, and performers, the 40-key crash pad exudes a tousled French sensuality. It's a place where the bed looks just as good unmade — and that captures the essence of SoPi better anyway. Downstairs you'll find the café, restaurant, bar, and vinyl library where contemporary never comes at the expense of character and the well-honed sense of vibrant eclecticism is palpable in every corner.
At once posh, playful, and reflective of its perch in one of the most storied parts of Paris, Hotel Pavillon Faubourg Saint-Germain is a five-star design haven tucked inside a characteristic facade with shutters and flower boxes. The vibrant interior colors and fabrics like rich velvet lend an irresistible decadence that extends from the common spaces — including a cocktail bar that pays homage to the neighborhood's literary heritage — to the guest quarters. More than just a spot to snooze, individually decorated suites flaunt statement headboards, draperies, and soaking tubs.
Staying at an opulent manor house sounds more like an experience fit for the Loire Valley than the French capital. Surprisingly, that level of lavishness and privacy also exists in the City of Light — you just have to know where to look. Inhabiting an 1892-built château in the 16th arrondissement, Saint James Paris leads with luxury and sophistication. From the grand staircase to the craftsmanship of the woodwork, it's a magnificent journey through the past with plenty of contemporary panache. A Michelin-starred restaurant, a cozy library bar, a Guerlain spa, and manicured gardens add to the affluent ambiance.
New doesn't always translate to noteworthy in a city like Paris. In the case of Maison Proust, novelty is just one of the many enticing attributes. Inspired by Parisian salons of the past, this 23-bedroom boutique hotel earns major points for its privileged location in Le Marais. Visually, interiors channel Belle Epoque splendor with ceiling moldings and period paintings. But there's also something more visceral at a play, a timeless French sensuality that spurs romance and intrigue in the richly appointed bedrooms and makes the jewel tone bar the perfect place for a tête-à-tête or a date night.