The Most Fashionable Boutique Hotels In London
Three words: stylish, cosmopolitan, posh.
@the22.london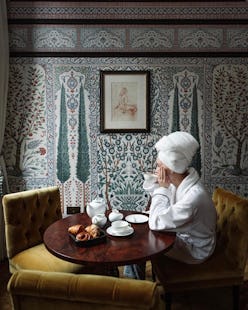 London may have the second most five-star hotels in the world (it was recently dethroned by Macau, which now holds the top honor), however, the UK capital offers travelers more than just $1,200-a-night rooms fit for royalty. Yes, it has plenty of empty-your-wallet expensive overnights that are, admittedly, quite extraordinary, but that's just a piece, albeit a large one, of the accommodation scene. London is a fascinating, cosmopolitan destination where larger-than-life landmarks like Buckingham Palace mingle with fashionable shops and easy-on-the-eyes restaurants in neighborhoods that ooze charm. So it should come as a surprise to absolutely no one that character-rich stays abound. To that end, London's boutique hotel game is very strong.
OK, that's an understatement, it's flat-out fabulous. Our picks for spots to call home when visiting the birthplace of red phone booths and Big Ben reflect the distinctive vibe of their environs, whether that's posh Mayfair or creative Shoreditch. Journeying across the pond soon and want to drop your luggage — and, perhaps, have afternoon tea — somewhere that's stylish and packed with personality? Bookmark these design-driven boutique hotels for your next trip to London. They'll place you in the center of the action: the best galleries, shopping, restaurants, attractions. That is, if you ever want to leave these ultra-chic properties. Cheerio!
Tucked inside an Edwardian manor on Grosvenor Square, The Twenty Two reads like a masterclass in refined maximalist. (Is that even a thing? If not, it should be and this hip hotel proves it.) The 31-key retreat channels the opulence of 18th-century France with crystal chandeliers that hang from above bespoke canopy beds, heavy velvet drapes, and custom upholstered sofas. Bold hues, delightfully over-the-top patterns, and curiosity-spurring corners inject a modern zeal that fills it with fresh, creative energy. It also has a private members club, because, well, of course, it does.
Showing off a whimsical, playful side that the U.K. capital does always get credit for having, the sustainably-minded Treehouse Hotel London exudes ease and intentionality. The photo-ready rooms and suites with connecting options appeal to the sartorial set, from London Fashion Week attendees to British Vogue editors to aesthetic-oriented travelers. It feels nostalgic — like you're finally fulfilling a childhood fantasy — but with the practical high-tech inclusions and decor worthy of a glossy magazine that speak to an adult sensibility.
Situated near many galleries, food markets, and a tube station, The Hoxton, Southwark leans into its Southbank surroundings. Rooms are ridiculously chic with contemporary nods to the area's industrial past like concrete ceilings, exposed brick walls, and Crittall-style windows, plus local art and all the clever space-saving accents you'd expect from the hip hospitality brand. Albie, the all-day lobby eatery, serves good vibes and great food, with a beverage list to match. The rooftop restaurant has an oyster bar and hold-on-to-your-fiddler-cap skyline views.
While there's stiff competition for the top boutique hotel seat in the upscale neighborhood that borders Hyde Park, Flemings Mayfair, a member of Small Luxury Hotels, certainly makes a strong case for why it deserves the jewel-encrusted crown. Many properties with such an impeccable pedigree and exclusive address would serve attitude, but not this one. It's warm and somehow both buttoned up and relaxed with a sense of refinement that's echoed in the glamorous lacquer, gold, and velvet of the interiors of the Georgian townhouses.
Surrounded by vintage boutiques and cool cafes in one of the trendiest parts of East London, One Hundred Shoreditch feels right at home in its eclectic environments. Music, art, and design all play a role in the fashionable fabric of the creativity-driven indie hotel. Contemporary paintings, abstract artwork, and cool installations accent the walls in the bedrooms and public spaces. There's also a succulent-studded, Palm Springs-inspired millennial pink rooftop bar for sipping cocktails and hoping some of that SoCal sunshine breaks through the London clouds.
L'Oscar London, a member of Leading Hotels of the World, sits inside a resplendently restored Baroque-style building in the heart of historic Holborn that used to be a church. It's hard to imagine a place with such a pious past could transform into something so seductive. But that's the brilliance of renowned Parisian decorator Jacques Garcia, who breathed drama and decadence into the 39-room property. Arts and Crafts-era fireplaces, ornate plasterwork, and exquisite oak paneling flirt with attention-grabbing colors and sumptuous textures.
Beaverbrook Town House in Chelsea looks like the sort of flat where a modern noble would happily hang up their tricorn hat. Credit for the audacious design goes to Nicola Harding. The interior luminary curated every last detail to establish a beguiling, bijou character throughout the residential-style property. Classic elements, fashionable colors, and exaggerated prints work together to create spaces that are once eclectic and harmonious — including 14 rooms that pay homage to London theaters.
Quaint, chic, and filled with charm at every turn, the Dorset Square Hotel is a favorite of fashion cognoscenti. It's dapper yet homey in a way that beckons travelers to trade stilettos for well-loved loafers. The prints that owner and designer Kit Kemp chose throughout the townhouse interiors could just easily walk the runway. The English-style drawing room, an all-day eatery that cues plant-filled potting sheds, and 38 individually decorated bedrooms all have a modern, springy quality that's a ray of light during even the grayest months.
A collection of four Victorian townhouses conceals one of the most splendid boutique stays in London. 11 Cadogan Gardens blends old-school royal glamour and a present-day predilection toward comfort. Tasteful furnishings punctuate the public space. Though all the accommodations are individually alluring, a common thread of contemporary luxury with a hint of extravagance links all 34 rooms, 22 suites, and six apartments. The private garden is a breath of fresh air (and, weather dependent, an ideal opportunity to bust out a pair of yellow wellies or a classic trench coat).
The Bloomsbury Hotel is a swish home base that's within walking distance to London's legendary stage plays, Covent Garden, and the shops along Oxford Street. The exceptionally curated suites are draped in rich jewel tones, sumptuous velvet, and leather headboards. The opulence continues in the marble bathrooms, where freestanding tubs tempt travelers to soak in style. Then again, the pull of the tipple-laced pleasures at the elegant bar and eye-catching fireside sitting room can't — and, more importantly, shouldn't — be ignored.