Banana Republic's BR Home Expands To Furniture & Furnishings
The brand is taking over living spaces.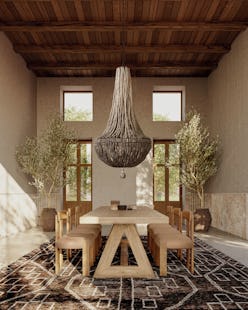 We may receive a portion of sales if you purchase a product through a link in this article.
Following an initial entrance into the home textile category in spring 2023, Banana Republic''s launch of lifestyle arm BR Home is coming into full view with its expansion into furnishings and furniture.
Covering bedroom, living room, and dining room, the new offerings — which include decor and lighting — align with the aesthetic and quality established in the label's ready-to-wear lines. (Think soft neutral and earthy color palettes, modern use of natural materials, and classic silhouettes and styles.) "At Banana Republic, we are driven by a desire for discovery and self-expression, representing a new way to outfit yourself and your home," says Sandra Stangl, Banana Republic president and CEO, in an official press release. "We are committed to bringing exceptional quality, timeless design, and versatile styling to our customers as we determine how to best support their lifestyle."
The new collection employs materials such as French oak, marble, brass, plush cotton cashmere, and organic cotton from global artisans around the world. Catering to "customer's multifaceted lives" and supporting their "journey in a life well-lived," the launch covers three key tentpoles of expression: Textured Modern, Classic Chic, and Explore.
The Textured Modern component marries the classic and contemporary via "clean lines, smooth finishes, mixed materials, and minimalist aesthetics," according to the official release. The Classic Chic tentpole spotlights traditional and signature shapes that will be consistent throughout the collection, that "give spaces a sophisticated and harmonious feel." Finally, through BR Home's Explore element, global influences come into play, with artisanal touches and organic elements adding interest and a sense of grounding to each piece.
It's this last component that truly drives the new launch as product craftsmanship is a Banana Republic legacy, says Aaron Rose, Chief Commerce and Experience Officer for Banana Republic in the official release. "This dynamic collection celebrates the beauty of high-quality natural materials and skilled artisans, creatives, and those designers whose work reflects our brand values and allows us to support craftsmanship communities around the world," he says.
The launch is broken down into six collections (for now). The classic Stinson Collection, which features furniture and upholstery made by master craftsmen in North Carolina and Virginia, and sustainably sourced hardwood that embraces more traditional and functional silhouettes. The unique, contemporary Marquis and Savannah dining products tap into details like the aforementioned French oak and more natural, organic shapes. The Phoenix furniture collection is a conglomeration of items from woodcarvers across the island of Java, Indonesia, distinguished by its hand-carved teak and rich mahogany finishes.
In decor, there's the Atlas Moroccan Rugs Collection, which includes hand-knotted creations made by various artisans based in the Middle Atlas Mountains of Morocco. For lighting, the Nova Collection offers striking, handmade clay beaded chandeliers.
The newly expanded BR Home Collection can be shopped at the official website and is rolling out in select US stores through the end of September. Prices range from $150 to $4,950. Shop some of the chic treasures already available for purchase below.