8 Superfoods For Better Sleep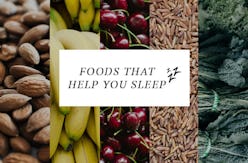 You've brewed countless cups of chamomile, taken your fair share of restorative yoga classes, and even tried to shut the lights just a little bit earlier. After all, quality ZZZs affect everything from your eating habits to your immune system—and we doubt you have time to be bogged down by a pesky cold.
But if you still find yourself counting sheep (or reaching for a bottle of sleeping pills) on the regular, it may be time to change up your diet. "The foods you eat have a significant impact on the quality of your sleep," says Jason Wrobel, a longevity-obsessed raw vegan chef with his own TV show on The Cooking Channel and a roster of celeb fans (think Woody Harrelson and Robin Wright). In his just-released first cookbook, Eaternity, he devotes an entire chapter to recipes that promote better sleep.
The need is pretty apparent to anyone with a functioning Keurig. "People are generally very over stimulated in our society," he notes, pointing to caffeine and artificial sweeteners as some of the main culprits. Refilling your coffee cup over and over again throws off your adrenal glands, affecting the adrenal and nervous systems—and causing feelings of stress, anxiety, or the jitters. As in, the things that keep us lying awake in bed at night, or tossing and turning until the alarm goes off.
And this overstimulation doesn't come without a cost—your body needs some snooze time to help it hit the refresh button. Working late and then waking up early to hit up power yoga may seem feasible for a little while, "but in the long run, you're going to compromise your energy, memory, well-being, and longevity," Wrobel warns. He recommends weaning yourself off of these stimulants throughout the day—especially caffeine—and getting your energy from more sustainable food sources at every meal.
Not sure what to stock up on to maximize the quality of your time under the covers? Wrobel picks his favorite sleep-enhancing foods based on key nutrients, like calcium, magnesium, potassium, B vitamins, and tryptophan—which all play key roles in serious shut-eye. In an age of overachieving, it's about time we all aim to be successful snoozers, too.
8 Superfoods For Better Sleep
1. Almonds
"Almonds are high in potassium and B vitamins, which help our nervous systems to relax," says Wrobel. His super-sleep snack tip? Spread some almond butter on toast with banana slices (another sleep all-star)—no need to count sheep when your head hits the pillow.
2. Bananas
Bananas, like almonds, are packed with B complex vitamins and potassium, making them one of Wrobel's favorite "insomnia-fighting ingredients." (We like to keep a supply of the natural muscle relaxant in the freezer for when our sweet tooth kicks in.)
3. Brown rice
"Brown rice is awesome because it contains GABA, which is a natural Ambien," Wrobel says. If you've never heard of GABA (you're definitely not alone on that one), you may want to get familiar with the amino acid. GABA—aka gamma-amino butyric acid—calms the nervous system and works almost like a natural, super-mellow tranquilizer.
Keep reading the full article here for 8 foods that will have you asleep faster, longer, and deeper.