32 Genius Products On Amazon That Spruce Up Every Part Of Your Home
Shutterstock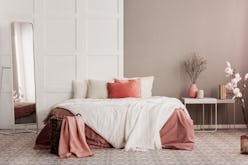 You care about how your home looks, and you've invested time and energy into making it a place you want to, well, come home to. Sometimes, improving your space involves days of hard work or spending big, but there are many simple home improvements you can make that don't have to be costly or time-intensive endeavors. These 32 genius products on Amazon that hide the eyesores in your home are proof of that.
Though most people would probably agree that a home with character is far more welcoming than a sterile, too-perfect environment, that doesn't mean there aren't spots you'd like to improve upon. But it can feel daunting to know where to start, especially if you don't have the time or the budget to go totally HGTV Dream Home on your space, whatever size it may be. That's where the brilliant products on this list come in. Ahead, you'll find all sorts of clever items that will hide unsightly cords, cover up messes, expand your space, and improve the look and feel of every room. They're all affordable and conveniently sold on Amazon, and best of all, they can be installed and set up by anyone, whether you're handy around the house or a total home improvement novice.
Intrigued? Then scroll on to shop 32 of the smartest finds on Amazon to improve upon any space in your home.
This article was originally published on