This Brilliant Pantry Organizer Will Make Your Fall Cleaning A Breeze
Bed Bath & Beyond's best storage solutions, found.
Bed Bath & Beyond / Instagram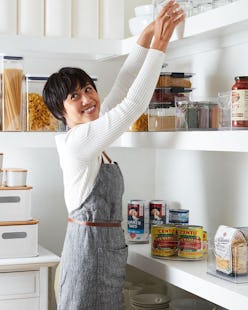 Look, you probably already know that Bed Bath & Beyond is your storage shopping destination. A quick search on the beloved home brand's website reveals that there are thousands of storage and organization products at Bed Bath & Beyond. Whichever room in your house — or closet space, or obscure dark corner — needs help to stay tidy, Bed Bath & Beyond almost certainly has a solution. But it's easy to identify places around your home that need assistance. (The piles of laundry or knick-knacks are a dead giveaway.) Finding which of the thousands of products is right for you? That's trickier.
Luckily, there are a handful of organizational products that stand out from Bed Bath & Beyond's well-stocked crowd. They're the ones that push the envelope — either with design, style, or through cleverly updating how a product like itself operates. These are the products that will make you wonder why you didn't just invest in a $10 wall-mounted shelf sooner once you noticed all the clutter in your bathroom cabinets, or after misplacing your keys for the millionth time.
And while you may be able to guess a few of the products that make the list (yes, there is one under-bed organizer), even solutions similar to ones you already own may surprise you with how clever they are. Ahead, 30 of the most brilliant organization products currently available on Bed Bath & Beyond's website.
This article was originally published on