A Newbie's Guide To Tuxedo Dressing Like A Pro
Because sometimes a dress just don't do.
Magda Butrym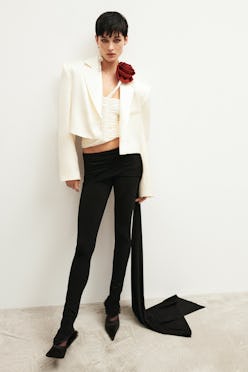 In 1966, legendary designer Yves Saint Laurent forever changed the trajectory of women's tailoring when he introduced what many would say was his most iconic piece: the tuxedo jacket. Up until that point, black-tie suiting was largely considered to be menswear-exclusive, but Saint Laurent translated these sartorial codes to the female form. Eventually, his novel idea would become a bonafide staple in the closets of gender-norm-defying ladies everywhere.
This season, the look was peppered throughout the Fall/Winter 2023 runway collections including both classic homages and contemporary riffs. Celine and Christian Siriano specifically illustrated these two extremes: the former showed a timeless tux with a white ruffled blouse and big black bow tie (brilliant) while the latter debuted a fuchsia-accented tuxedo jacket with bloomers and sheer tights (iconic).
All this said, while the idea of wearing a tuxedo sounds downright chic, it's also quite the daunting task if you've never done it. Whereas men are often fitted for special occasion suiting from a young age, most women don't have that experience to draw on. They don't know what to look for in good tailoring — and even if they did, they may get tripped up trying to style it. But with the holiday season approaching, there's never been a better time to learn.
So, what is a tuxedo, exactly? "There are few details that will differ between a tuxedo versus a regular suit," wardrobe stylist Danielle Cafiero explains. "A tuxedo will either have peak lapels or a shawl collar and the fabric is usually wool gabardine or velvet with contrasting satin or silk lapels and piping [on the side of the leg]," she says, adding that the buttons are typically covered with similarly luxe fabrics.
But not all tuxedos are made alike, and finding one that not only fits your body but also suits your taste is all important. "When selecting one, you should keep in mind the lapel shape and width, along with the material," Shopbop Fashion Director Caroline Huang Maguire says. "It's all about nailing the right proportions for your body, and you should be considering the jacket length and fit (cropped vs fitted vs oversized) along with the pant style (classic straight vs wide-legged)."
ZendayaEdward Berthelot/GC Images
Olvia WildeRaymond Hall/GC Images/Getty Images
Katie HolmesDave Benett/Getty Images
The tuxedo has also been a celebrity favorite for decades now thanks to the way it strikes a balance between looking polished and effortless. Some stars with a knack for setting trends, like Zendaya, have even skipped the jacket altogether by opting for a tuxedo shirt and pants. "In the same vein, I'm really into borrowing from the tuxedo family in a new way, like this Tuxedo Romper from R13," Maguire notes.
Naturally, finding which of these combinations best aligns with your personal style is a matter of preference. But finding the right silhouette is only half the battle — you also need to settle on how you're going to wear it. "A sheer blouse with a lace bralette will add a delicate balance to a structured tux jacket, and slingbacks with a thin heel will anchor the pants without looking too heavy," Cafiero suggests, pointing out it's best to go timeless with the rest of your look. "Add a sleek clutch and chubby earrings with a slick-backed bun or a dramatic side part."
Keep reading ahead for five more ways to translate the tuxedo into your repertoire.
A Tux Dress
If a pantsuit simply isn't your speed, you can still channel the look with a dress. Consider it your new favorite LBD, and one that plays nicely with both tall boots and stiletto heels at that. In a similar vein, as mentioned above, a tuxedo romper is also a clever option for festive occasion.
Styled With Sheer
If, like everyone else, you've been waxing poetic about the sheer skirt trend it should please you to know that the tuxedo blazer is an ideal complement to the piece. The tailoring up top combined with the alluring see-through material below provides nicely balanced effect. Complete the outfit with a white tuxedo shirt, translucent tights, and strappy heels.
Contrasting Lapels
By nature, the tuxedo blazer's lapels already stand out (reminder: they are usually satin or silk) but if you want to take this a step further, look for something with contrasting color. For a subtler take, black and white is always a winning look. Or, if you prefer to go bold, a deep green is ideal for a holiday soirée.
A Shirt Motif
Ditch the blazer and slip into chic tux shirting for a striking interpretation of the trend. Pair it with menswear-inspired shorts (with its satin side stripes, this pair from Sacai below feels like a nod to tuxedo trousers) and add in a cute bowtie and ankle-strap heels.
Statement Styles
While there's no denying the timeless appeal of a classic black tie jacket, there's something to be said about options with an extra bit of flair. Magda Butrym's ostrich feather-embellished blazer is sure to make a splash on the party circuit, as would LaQuan Smith's ultra-cropped style.
Sans Blouse
A bit daring but enduringly stylish (and sexy), a tuxedo worn without anything underneath is a reliably strong holiday party look. You can keep the rest of the look minimal with a simple pendant necklace and black pumps. Just don't forget the double-stick tape to keep everything in place!