5 It Girl-Vetted Ways To Wear A Sheer Skirt
It's easier to style than you might think.
Christian Vierig/Getty Images Entertainment/Getty Images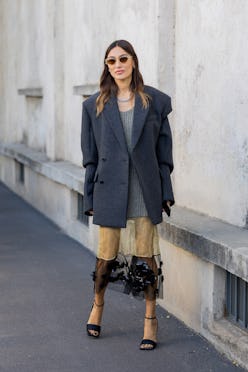 We may receive a portion of sales if you purchase a product through a link in this article.
The majority of viral fashion trends begin as novel ideas, clothes and combinations most people would never consider wearing. Take, for example, the omnipresence of sheer clothing these last few seasons: The thought of slipping into a garment that exposes your underwear and bra (or lack thereof) has historically felt taboo, or at least counterintuitive, to most people. But put that style challenge in the hands of someone like, say, Miuccia Prada and it's only a matter of time before you're feverishly adding your name to a waitlist to purchase a see-through skirt, and digging up online inspiration on how to wear it. Sometimes in order to realize the full potential of a tricky design you just need to see it from someone else's point of view.
"I think Miu Miu has opened the door to not just do skimpy underwear or black lingerie under a sheer skirt," says stylist Neelo Noory "Go for white. Go for old school high rise à la Jockey. Or a bikini hipster vibe circa '90s." A quick glance at the current runway collections and street style and you'll see she's right — underwear with fuller coverage is well-suited for a sheer skirt because it provides balance (which is the secret to any masterfully styled outfit).
"I love the confidence it embodies. It says 'I'm sexy, and I know it,' and that is just the vibe I need right now," notes Lisa Says Gah Founder Lisa Bühler, who carries sheer skirts throughout her boutique's in-house collection. "I'm into the full sheer lace or organza, as it has a little more texture and slight coverage and body to it, so it's not tight on the skin."
Once you've figured out what undergarment to layer beneath your translucent lower half you may be wondering what else to pair it with — your answer can veer in several directions. "I would do a super oversized tee (as seen here and here) and I also love the idea of tucking a tee or sweater into the sheer," Noory says. And if you're escaping to somewhere warm this winter, don't forget to pack your sheer skirt. "I personally like to style it back to a bodysuit, or in a vacation setting, a swimsuit," Bühler says.
Keep scrolling for more ideas on what to wear with a sheer skirt, and expert advice on putting everything together.
With A Sweater & Boots
While some gauzy silhouettes are destined for a splashy night out, others are better suited for a daytime occasion. When you're dressing for the latter, slip into this easy-to-wear formula featuring a roomy sweater, sheer maxi, and staple accessories, such as a tote bag and boots.
With The Shirt Tucked In
Lean into the statement-making quality of the piece by tucking your button-down shirt inside so you can see the hem. The overall effect feels slightly subversive while still looking impeccably polished. Then complete the combination with a shoulder bag and of-the-moment Mary Jane flats.
With A Tank & Bloomers
If you're ready to crank things up a notch, team a netted half slip with a slim-fit white tank and black bloomers. Add intentionality to your bold wardrobe choices with disco-ready extras, like platform heels and a glitzy party bag.
With A Moto Jacket
If mesh isn't quite your speed, consider a see-through lace option instead for a romantic vibe. Contrast the delicate material with timeless staples like a moto jacket and tall boots.
Layered With More Sheer
Elevate your sheer skirt styling skills by mixing two together in slightly different see-though materials and lengths. The pairing offers a bit more coverage while still feeling adventurous. Then further flaunt your fashion prowess by throwing in a tucked in top and cord necklace-turned-makeshift belt.