The Weekend Travel Bags That'll Make Your Journey Stylish & Stress-Free
@bymilaner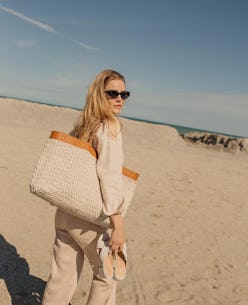 We may receive a portion of sales if you purchase a product through a link in this article.
Welcome to peak vacation season, a time when, at any given moment, you could get a last-minute text from a friend asking to take a two-day jaunt to Fire Island or the Jersey Shore. While fun and exciting, short trips require strategic packing — think versatile pieces that can be worn for various activities (sleek white sneakers are your best friend here) and a streamlined skin care routine (Palette by Pak's refillable tool is a game changer). It's also a smart idea to have a weekend travel bag on standby. Because, as tempting as it is to bring along your go-to suitcase on a Friday-to- Sunday trip, it's not always the most practical.
If your bag lineup lacks a take-everywhere tote, who better to ask for suggestions than editors? Team TZR is constantly on the go for work and has plenty of foolproof weekend bags. For starters, our Executive Editor, Angela Melero, adores Madewell's brown leather overnight bag, which would also be an excellent work option, too. And should you be looking for a duffle bag, consider scooping up Paravel's monogram look loved by TZR's Editor In Chief, Kathy Lee.
Without further ado, keep scrolling to see TZR editors' can't-live-without weekend travel bags. Pro tip: Pack said carryall with SPF, chargers, and snacks, and your excursion will be smooth sailing.