Visible Mending Is More Than Sustainable — It's A State Of Mind
The possibilities are endless.
@evajoanrepair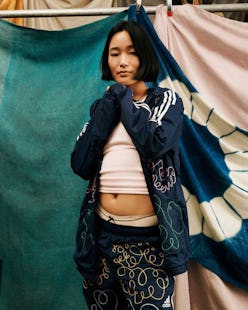 Over this past Christmas holiday, my go-to "kooky" winter hat, a Gucci x Disney collaboration beanie, fell victim to dog-related damage. I immediately called my older sister, who is a very talented knitter. "Bring any yarn that you think could work," was my only order to her while she was packing for her flight to our parents' home. She didn't have anything that was the perfect match so she grabbed the thinnest yarn she had, in a marled sherbet color, which we thought added some intentional flare. My hat was not just repaired but actually improved within two days. Instead of walking around with a chewed hem of a beanie or retiring it all together, I now had a one-of-a-kind conversation starter now attached to a silly story of a hat-mistaken-for-dog-toy mishap. This was my entry into the art of visible mending.
Visible mending, or the technique of deliberately fixing something in a decorative way, goes against the natural instinct of repairing to blend in, and instead requires a creativity to create an enhanced version of the item. To put it mildly, one must be prepared to part ways with the item they once knew and embrace the endless possibilities of what it can become. For some this may be freeing, but fashion purists often find it hard to get started. It really requires an open mind and some detachment to the piece. However, the process is less daunting if you come in with the right plan and attitude.
Below, I've polled a few expert menders to create a set of guidelines to follow when transforming a beloved piece from your own closet. Whether you're trying the techniques at home or need to outsource to others (more my speed), visible mending requires a bit of bold thinking — here are a few places to start.
Rule #1: Trust The Process
Bjorn Park and Emma Villeneuve of EvaJoan repair shop believe in gently guiding their customers in the process of creative problem solving. "We're really fascinated by how long it's taken for people to wrap their head around [visible mending]," says Park of their their consultation process, in which they ask each customer to explain their personal taste, and share sentimental details. From there, she and Villeneuve request that clients give them the freedom to do what they want without dictating that to them. "There is a lot of trust to give us a sentimental item and creative control to someone else, it requires a fundamental intimacy," explains Villenuve.
While getting in this mindframe isn't easy, their shop of one-of-a-kind wonders serves as inspiration to get a customer's wheels turning. "We have these repeat customers who realize that all it requires is for them to bring the garment and the intention of mending it. After they bring in one thing, then they simply understand that their clothing can be more like them." Park says it just requires a warm up and flexing the muscle before it becomes more of a natural process. "By the 6th garment they remember their dad's nickname in college and they ask to embroider it on the inside of their boyfriend's blazer," she says. "And now we're cooking with gas."
Rule #2: Think Beyond The Expected
"It's all stories. What stories can we tell by taking a piece outside of it being just a shirt?," muses Drea Johnson, founder of Hidden Opulence Design House. The alterations and repairs service provides standard treatments like zipper replacements and hemming, but Johnson's creative side comes into play with custom projects like upcycling and, of course, visible mending. Johnson contemplates peace in expression without intention, by reflecting on a pair of pants that were accidentally stained with bleach. A few paint splatters later and the end result was a whole new look that sparks conversation.
"There is a form of acceptance that happens when it comes to doing visible mending," Johnson explains. "You're accepting that there's a part that's not working, but it doesn't mean that the whole thing isn't working." And as it turns out, this change of perspective allows one's style to be more free and interesting, rather than perfectly cookie-cutter.
Rule 3: Let Old School Techniques Take You Somewhere New
Prot, the anonymous craftsman and designer behind the line Proleta Re Art, a reworked denim and workwear line favored by musicians and streetwear aficionados, taps into the art of ancient sashiko mending, a popular technique in rural 17th century Japan to conceptualize something completely unexpected. "Rather than using the traditional Japanese technique of stitching to repair old clothes such as kimonos, I use the traditional Japanese technique to repair tears in old clothes from countries where such a culture did not exist, like American jeans, sweatshirts, military wear, etc," he says. His aim is not always to seek out a way to make it different, but letting the technique and design ideas run wild naturally. "I believe that as people come into contact with this 'repair culture' through social networking sites and deepen it in their own unique ways, it will develop into a new culture by mixing analog techniques with the latest designs and information."
Rule 4: Let Go Of The Past & Embrace The Future
Rebecca Harrison of Old Flame Mending, a full-service garment repair shop, says even the most timeworn pieces can have a chance at a second life with a little bit of ingenuity and smart planning. "A customer had brought in a lace tablecloth [that] had been passed down through her family," she recalls. "It was totally falling apart: it was stained, stuff was unraveling, there were holes everywhere. I turned it into a table runner by cutting out elements of the lace and sewing it onto linen." With an old piece like this that has so much history, it's a challenge to maintain its integrity and honor its longevity while still making it usable for the next generation. With all of its damage, Harrison took the care to be strategic about saving and cherishing its best parts. "[The end result] was so simple in some ways, but the opportunity to delve into something that is old to understand how it was made, is what I live for."