On Our Radar: Alexandre Vauthier's French Threads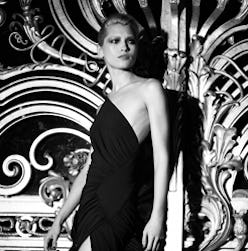 With a background in design at the prestigious fashion houses of Thierry Mugler and Jean-Paul Gaultier, designer Alexandre Vauthier's gorgeous collections represent the fusion of his boundless creativity with a touch of French influence. In this interview led by Team Zoe contributor, Natacha Steven, Vauthier shares everything from his favorite styles to advice he has for aspiring fashion designers.
When did your passion for fashion begin?
I think I am a child of my generation. The '70s and '80s were very strong periods of image and creativity. This period also laid the foundation for carefree, happy-go-lucky and disinherited environment. Add a mother that was crazy for fashion into the mix, and here I am!
Photo: Mathieu Cesar.
What kind of woman do you envision wearing your designs? If you could see anyone wearing a look from your collection, who would it be?
My clothes are not designed for one specific type of woman to wear. In terms of who I'd like to see wearing my line, I'm not obsessive with people except when I'm in love…
What is your favorite piece or type of piece you have ever designed?
I love tailored pieces and working on them. It's a true obsession!
How would you define your style?
I seek to work in a rigorous yet balanced fashion. Balance is the basis for my creativity—soft/tailored, sexy/strict, rich/pure. My last collection had a sophisticated side and also a sporty side, always the balance and the paradox.
Photo: Mathieu Cesar.
How does it feel to see your clothes on stars such as Rihanna and Beyonce?
It's an honor. I am a great admirer of their endurance and professionalism—they are outstanding role models! So yes, I am proud that they like my work.
What advice would you give to any young stylist/designer?
To work hard, have doubts, make mistakes, start again, to persevere and maintain a distance to gain perspective.
What is the best advice you've ever received?
Don't be afraid!
What is the item every woman should have in her closet?
An Alexandre Vauthier jacket!