The Cool-Girl Vintage Maven You Need To Meet
chloe.chippendale on instagram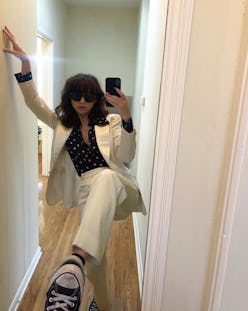 If there's someone who knows a little something about rad '70s vintage, it's Chloe Chippendale. The mastermind behind Stoned Immaculate Vintage has made it her life mission to curate the swinging decade's grooviest womenswear, hand-selecting everything from flared pants, fringe outerwear, ringer tees and the like to keep the era's free spirit alive (not to mention the blog and Instagram account she maintains to further immortalize the good vibes). Here, SIV's main chick on what fuels her, where she seeks inspiration and what she's currently coveting.
Chloe Tells All
How She Fell In Love With Vintage
The spirit of the '70s, reinterpreted by Chloe for a Stoned Immaculate Vintage photo shoot. Photo: @electricalbanana
"My grandma had an awesome vintage shop in England and my mom always took me thrifting growing up, so it seemed like a natural progression. I've always loved imagining where old things came from—who had them before and how they made their way to today."
What She Looks For When Buying Vintage
Chloe sporting a pair of perfectly fitted vintage denim. Photo: @electricalbanana
"Good fit is important and the condition needs to be excellent or distressed in a way that actually makes the item better, like a worn-in t-shirt or patched-up denim. I also love pieces that come with a good story!"
Best Vintage Score To Date
The one that got away—one of Chloe's all-time favorite tees from the SIV archive.
"There are so many things that I've sold that I sort of wish I hadn't, like this insane vintage Doors tee. Each piece is sort of like a lover—it's so special and you have the best times in it, and then you let it go to make room for something else amazing."
Hero Piece From The New SIV Collection
Stoned Immaculate Vintage Flared Leather Pants, $526
"These pants are my favorite! You never find vintage leather pants that fit this perfectly and have this length! If they fit me, I would never let them go."
Her Throwback Playlist
Chloe's favorite jam by David Bowie. Photo: Spotify
"Recent spins on my record player have been "Oogum Boogum Song" by Brenton Wood, "Lola" by The Kinks, "Rebel Rebel" by David Bowie and anything by T.Rex."
All-Time Favorite SIV Shoot
The "Return To Woodstock" editorial for Stoned Immaculate Vintage.
"I'm really loving our latest "Return To Woodstock" feature for Fashion Gone Rogue. I'd been collecting for this editorial for months and we had so much fun bringing it to life! Every single piece in this story is epic."
Where She Seeks Inspiration
A history of jeans—American Denim by Peter S. Beagle.
"Some of my favorite inspiration books are Native Funk & Flash , American Denim , My Freedamn 4 Hippie Rags and Spaced Out. Vintage Rolling Stone, Vogue, Queen and Playboy magazines are always good sources as well. I also love Mirage and Self Service."
Best Vintage-Inspired Editorial
Channeling Gloria Steinem—Dree Hemingway for Porter Magazine #7 Spring 2015.
"I'm currently obsessing over this 70's-inspired, collegiate-feminist editorial with the foxy Dree Hemingway."
Pieces She's Currently Coveting
Chloe Crinkled Silk-Georgette Top, $2495
"I love anything by Chloe or YSL. So many of their pieces are inspired by the '60s and '70s and they are so beautifully done."