These Super Stylish Clothes Will Keep You Cozy & Are So Freaking Cheap On Amazon
Sophistication meets comfort.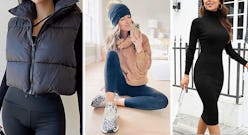 We may receive a portion of sales if you purchase a product through a link in this article.
If you live in a seasonal climate, you'll know how much of a struggle it can be to get dressed on frigid winter mornings (or, worse, frigid winter nights); how to look chic and put-together without freezing often feels like a pro-level skill. The hack? Stock up on these super stylish clothes that'll keep you cozy and are so freaking cheap on Amazon. These are the cold-weather basics you'll reach for all season long (and often well beyond it), and since everything costs less than $40, you'll still have room to spare for a few investment pieces, like cashmere sweaters and faux-fur coats.
Since layering is the key to keeping truly warm, virtually everything on this list is ready to be worn in tandem with other pieces — whether that's a waffle-knit henley that works as a cozy shell, a pair of genius fleece-lined leggings or heat-trapping tights you can wear underneath your jeans, or relaxed-fit sweaters that won't look bulky over form-fitting tops. No list of cozy pieces would be complete without high-performing outerwear too, hence why you'll find plenty of puffers and fleece jackets that not only feel next-level cozy, but happen to be trending among the fashion set right now.
Nail that tricky balance between sophistication and warmth in these stylish, cozy, pieces on Amazon, all at steal-worthy prices.