See How Team Zoe Styles Its Little Ones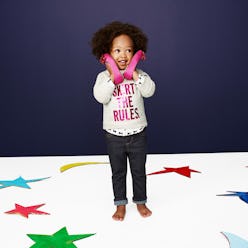 When it comes to your kids, it's never too early to encourage good taste. This season, the much-awaited GapKids collaboration with Kate Spade and Jack Spade is a great place to start. Introduce the fashionable tykes in your life to the magical world of color, whimsy and style by way of patterned separates, printed coats and adorable accessories. Starting October 30, shop the limited-edition collection of adorable apparel and accessories for the wee one (early Christmas shopping, anyone?). But no dillydallying! Once two weeks are up, it'll be gone for good.
Marisa Runyon, Director of Brand Partnerships
"I love a classic girly look mixed with something a little unexpected. I would love to see this look on my daughter, Stella. The print is playful and modern, and I simply can't get over that perfectly tiny handbag!"
Katherine Kleveland, Design And Merchandising Consultant
"My son Wilder loves costumes and accessories—anything to do with dress up. He'll especially love feeling like he's dressed like his dad in this look, while I'll quietly appreciate the marriage of functionality and style in these layered staples."
Lauren Blakeley, Product Development Manager
"My niece would look so adorable in this sassy little tee! I know she would pair it with her pink gingham mini skirt and matching pink sneakers, impressing all of the other kindergarteners within a 50-block radius."
Megan Gustashaw, Editorial Director
"I just watched Love Story again while hanging at home with my husband and brand-new baby, Nico. The movie's collegiate-inspired pieces and palette of camel, red and black are so incredibly stylish. This outfit reminds me of the looks in the film—down to the knit accessories! I'll be filing this idea away for when Nico gets a bit older."
Mandana Dayani, Vice President
"I love dressing our daughter, Anderson, in cool, androgynous clothes—it totally suits her tough-girl personality. The print in this outfit is so adorable, and I love the mixture of navy and white— the little bow belt is the perfect finishing touch!"
Tom Balamaci, General Manager
"Both of my nephews are going to love this camo parka. Landyn's from a small town in Western Pennsylvania where he'll wear it for an outdoorsy look. Presley—who has cool-kid Brooklynite parents—is gonna be the baddest kid on the block in this number. Super cute!"