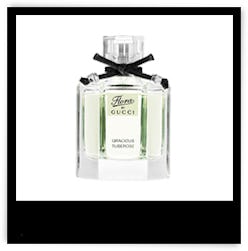 If you have yet to find a sweet summer scent to call your own, you're in luck today! We nosed out five standout sprays that are perfect to play perfume to your everyday this season.
Gucci, Flora Gracious, $70
From spring to summer, we love our florals in every form—including this fresh fragrance, which packs a petal-filled punch.
Guerlain, Aqua Allegoria Lys Soleia, $61
With notes of palm leaves, lily and vanilla, Guerlain's latest spritz will keep you coming back for more.
Byredo, Seven Veils, $220
Concocted of sandalwood, Tahitian vanilla flower and laurier rose, this sultry scent truly captures the essence of summer.
Bobbi Brown, Miami Beach Shimmering Fragrance Oil, $34
Blending a delicate oil with just right amount of shimmer, Bobbi Brown's fragrance is a great pick to stay smelling sweet on the go.
The Different Company, Sienne d'Orange L'Esprit Cologne, $104
A fresh staple spritz, we chose this cocktail fragrance for its refreshing notes of iris, apricot wood and orange.