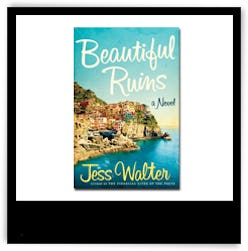 The consummate companion to stash inside your summer tote, choose one (or all) of these new paperbacks to get lost in this summer. From the car to the beach or on a plane, you won't be able to put them down!
Beautiful Ruins by Jess Walter, $18
From Jess Walter, author of The Financial Lives of the Poets, this fiction piece wraps up the reader in several storylines from 1960s Italy to present-day Hollywood.
Office Girl by Joe Meno, $16
An indie romance set in the late nineties, drawings and photographs help tell the love story between twenty-something artists Jack and Odile.
The Red House by Mark Haddon, $18
Following the viewpoints of eight characters, Mark Haddon's dramedy tells the tale of a modern family vacationing in the English countryside. Disclaimer: Conjurs up every emotion one feels while in close corners with relatives.
The Age of Miracles by Karen Thompson Walker, $17
Told through the eyes of 11-year-old Julia, Karen Thompson Walker's debut novel juxtaposes a coming-of-age story with apocalyptic events.
Gone Girl by Gillian Flynn, $16
Holding us over until Revenge returns, this suspenseful read by Gillian Flynn keeps you turning pages to find out what happens when Amy disappears on her fifth wedding anniversary.