Styling Challenge: Menswear Chic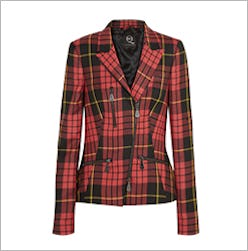 There are plenty of ways to rock a blazer—all buttoned up at the office with a pencil skirt and tailored top or completely dressed down with rolled-up sleeves and your favorite denim shorts. Even sport one over your shoulders with an evening gown to watch the sun go down—the options are endless! No matter the occasion, you can't go wrong with a well-tailored jacket, and given the menswear-inspired trend is currently having a major moment, there's no time like the present to break out your favorite blazer.
Ready to create your own menswear-chic look? Play our latest Covet Fashion challenge—download the game here to start styling!
Stella McCartney Iris Jacket, $1765
Laveer Kadette Blazer, $539
Jenni Kayne Double Breasted Blazer,$595
Rachel Zoe Finn Blazer, $425
Joie Behira Blazer, $298
Theory Donelly Blazer, $475
McQ Alexander Mcqueen Tartan Wool Blazer, $1120
Skaist-Taylor Cotton-Blend Blazer, $675