Team Zoe's Fashion Resolutions For 2016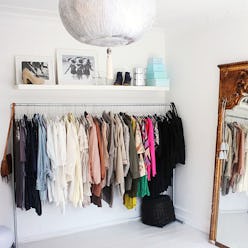 We shared our beauty resolutions for 2016, but naturally our ever-evolving style goals are part of the revamping equation. In an effort to keep our closets fresh for the new year, read on to find out Team Zoe's fashion resolutions ahead from shopping habits to tackling trends and style switch-ups.
What are your fashion resolutions? Tell us in the comments below.
Our New Year's Fashion Goals
"This year I resolve to apply the same scrutiny to items I'm adding to my closet as I give to those I'm throwing away."
—Nicky Deam, Editorial Director
"In an effort to look my best before starting my day (or night), I plan to always put in an extra 5-minutes before walking out the door whether it's trying a new accessory, wearing a proper lip or experimenting with a new hairstyle."
—Pamela Glassman, Director of Business Development
"This year, I plan to weed out fast fashion from my closet and instead focus on wearing timeless staples and vintage statement pieces. Not only is it a better investment and better for the environment, but I might actually be able to find things in my closet when I nix the clutter.
—Jaclyn Decell, Social Media Manager
"My resolution is to focus on footwear—for some reason, it's just not a category I naturally gravitate towards when I shop. My goal is to thoughtfully curate a bigger arsenal of heels, flats and sandals that feel different from anything I already own."
—Kristi Mikesky, Features Editor
"With a little over 2 years under my belt as a New Yorker, I'm incredibly guilty of wearing head-to-toe black most days. For 2016, I plan to experiment more with color."
—Victoria Gordon, Account Manager
"My immediate goal for the new year is to not wear a turtleneck every single day of winter. I have a tendency to stick to a uniform, so challenging myself to mix up my outfit combinations is definitely the long-term focus."
—Laura Lajiness, New York Editor
"Consolidate and simplify. I've started by donating items I haven't touched in a year and am pairing down my wardrobe to the basics with a focus on shoes to jazz it up!"
—Scott Riddell, Digital Director
"Being the beauty junkie that I am, I always pay extra attention to my makeup and hair routine but usually leave little time to select an outfit before running out the door. This year, I'm making it a priority to plan my outfit the night before and actually style my ensemble, rather than just throw on the first thing I see."
—Stephanie Montes, Senior Beauty Editor