Tricks For Taking An Amazing Photo In A Bikini—Seriously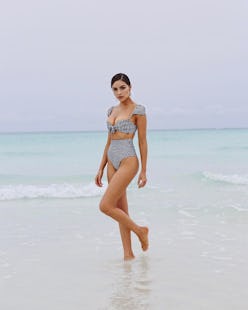 Having your picture taken can be stress-inducing on its own. Having your picture taken in a swimsuit is worthy of a full-blown panic attack. To make your next photo op feel more enjoyable and less like a shame spiral, we've rounded up the best tips for getting the perfect Instagram pic in a bikini. Here, five tricks we've learned from watching our model friends at work—just think of all the likes you're going to get.
Tricks Of The Trade
Take It With A Friend
Adding your buddy to the shot will help you feel more at ease. Have fun and let your confidence shine—there's nothing more beautiful than that, no matter what you're wearing.
Do The Model Lean
Sitting upright in a bathing suit is unflattering on almost anybody. Instead, lean back and prop yourself up on your elbows to tighten your stomach. Have your bestie take your photo from an angle, and slightly bend your knees to elongate your legs.
Go About Your Day
Take the stress out of striking a pose. Instead, stroll while the camera snaps away. It'll feel more natural.
Throw Your Hands Up
When in doubt, raise your arms above your head—it's an instant lift. Everything will magically look longer and leaner.
Show Off Your Assets
Put them front and center. For example: If you had one too many beach BBQ treats, hide the bloat by bending your knees in front of your stomach when taking a photo straight on.