The Blister-Busting Hack For Shoes You Should Steal From Meghan Markle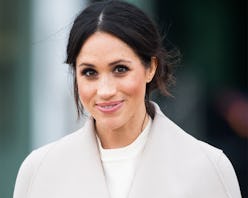 Before officially taking on her royal role, ex-Suits star Meghan Markle taught us commoners about the art of the wispy bun, how to rock all-white activewear, and how to bring a little Zen into our daily regimen. Now that the duchess has officially taken up residence in Nottingham Cottage, her living-well knowledge continues to reach new heights, literally: She has a brilliant hack for avoiding blisters in her omnipresent towering heels.
If you peruse the internet for the star's most iconic looks, you'll notice one recurring trend: Her high heels are always just a bit too big for her. And no, the roominess isn't simply an overlooked fashion faux pas. It's actually a genius way to make sure the hours she spends standing in high heels are just a tad less uncomfortable.
"Celebs often go a size up, or even two, in the shoe department when they're at an event or on the red carpet and it's for one reason we can all relate to—to avoid blisters," fashion expert Harriet Davey tells The Sun. According to Davey—and as we all know—long periods of too-tight containment can make your feet swell, leading to blisters and bunions (two things you definitely don't want to deal with in the summertime).
But how does Markle manage to keep from face-planting while wearing shoes that are too big for her? By invoking a new spin on stuffing your bra as—ahem—some of us might have done in middle school. "A trick of the trade is to stuff the toe with padding like tissue or cotton wool, and this can be taken out once they feel like they need a bit more room in their shoes," Davey says.
So the next time you're ogling a gorgeous pair of high heels, remember to go half a size up and pick up some cotton balls on the way home. Just like that, your long nights out in your best getup will no longer be a royal pain.
More from Well + Good:
3 Reasons Why You Need To Treat Your Pout With A Skin Booster Beyond Lip Balm
This Is What Your Perfect Date Looks Like, According To Your HoroscopeHow To Keep Your Leggings From Getting SaggyAfter A Million Washes