The Unauthorized Guide To Becoming A Street-Style Star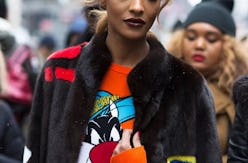 New York Fashion Week, that special time of year when everybody is a somebody, is almost here.
"How's your fashion week going?" many will ask starting tomorrow. "Oh, it's going," many will respond. Nights will be accentuated by the free-flowing Champagne at very exclusive, open bar after-parties attended by the media, celebrities, party crashers, Instagram-famous people, and those creatures who only seem to come out for NYFW. Days will be filled with many important people Ubering around Manhattan's west side, desperately seeking an outlet to charge their phone and avoiding having to answer another iteration of how their week is going. All the while, the eager gaze of street style cameras and the snap-happy photographers waiting for something to catch their eye are an ever-present NYFW fixture.
After all, this is the week street style stars are made. This is the week status is achieved. For some, street style comes easy. For others, it can be a bit of a challenge. So, here are 10 rules for street style success. Because if you never get photographed during fashion week, did you even go?
The Unauthorized Guide To Becoming A Street Style Star
Rule Number One
A good coat is everything.
Rule Number Two
Carry a fun bag!
Rule Number Three
Dress for the weather you dream of, not the weather actually happening.
For the complete list of rules to becoming a street style star, check out the full article here.