Even Maximalists Will Love These Bold Gray Outfits Ideas
They're surprisingly exciting.
@filis_pina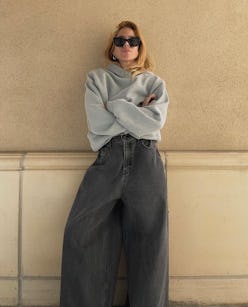 We may receive a portion of sales if you purchase a product through a link in this article.
Like clockwork, the arrival of spring calls for a sartorial shift in color palettes; rich, moody shades are traded in for dreamy pastels and dopamine-boosting neons. There is, however, one subdued winter hue that's sticking around a bit longer than usual this year: gray. Sure, it may feel strange to embrace a cloudy-looking color when the season is about welcoming the long-awaited sunshine and warmth back into your life. But even maximalists will have a hard time resisting the stereotypical understated shade, thanks to the captivating and surprisingly bold outfit — or groutfit, if you will — ideas that are rippling across Instagram.
Why this sudden fascination? Chalk it up to the Prada effect. According to editorial stylist Natalie Scicolone, the Italian fashion house is leading the charge in the color trend. "They opened the [Spring/Summer 2023] show with some strong monochromatic gray looks, and I feel like it's trickled down to everyone wanting to be that girl," she tells TZR. Not only did the first model take to the catwalk in a full-gray look, but the following three were decked out in the hue, too. In fact, throughout the collection, knee-grazing blazer jackets were teamed with fitted button-down jumpsuits in contrasting ashy shades.
Prada Spring/Summer 2023WWD/Penske Media/Getty Images
Prada Spring/Summer 2023WWD/Penske Media/Getty Images
In addition to Prada leading the charge, editorial stylist Suthee Ritthaworn credits Fendi as another major design house putting the color on everyone's radar this season. "They were very simple, chic, and had this sophisticated flavor," he says, describing the monochromatic outfits from the brand's new Fall/Winter 2023 collection. Some models wore coordinating graphite duster jackets and trousers, while others boasted cold-shoulder blazers and pant skirt-hybrids.
Fendi Fall/Winter 2023Daniele Venturelli/WireImage/Getty Images
Fendi Fall/Winter 2023Estrop/Getty Images Entertainment
Scicolone says a blend of textures and silhouettes are the trick to keeping a gray look interesting. For instance, if you're drawn to monochromatic pairings, the stylist suggests layering multiple fabrics, such as a ribbed knits and breezy linens — or you can always play with varying tones within the moody color family. A foolproof combination? Start with a pale gray on top, then go for a darker charcoal hue on the bottom. "Since gray is seen in such a business way, too, try wearing more fashion-forward silhouettes," suggests the stylist. "Try an oversized blazer, low-rise column skirt, or crop top."
For more inspiration, keep scrolling to find five influencer-approved gray looks worth trying.
Good Jeans
Shake up your denim-on-denim look with a matching gray top and bottoms. The result is classic and sophisticated — and better yet, it doesn't require too much effort.
Material Girl
Fusing together two different textures, like wool and denim, instantly makes an outfit more intriguing. To push the look a step further, opt for an accessory with a contracting finish, like a leather bag.
Mix Master
An all-gray look feels especially appropriate for an office setting. Try layering a dusty dove blazer over a button-down and trousers one shade lighter. Then, swap out your loafers for cool kicks, and your look will easily transition to post-work happy hour.
Extra, Extra
A knit jumpsuit is a comfortable yet stylish look to have at your disposal, but the right accessories will make it really stand out. Elevate the casual silhouette with pair of luxe loafers and dainty jewelry for a WFH look that easily transitions to IRL coffee meetings.
Proportion Play
Even the simplest of pieces feel striking when you opt for exaggerated, outsize shapes. Make like digital creator Sandra Heinrich Sauceda above and try a snug hoodie, super-baggy pants, and the chicest sunglasses in your arsenal.