Altuzarra's Fall/Winter 2023 Collection Is Elevating Outerwear In The Freshest Way
George Chinsee/WWD/Getty Images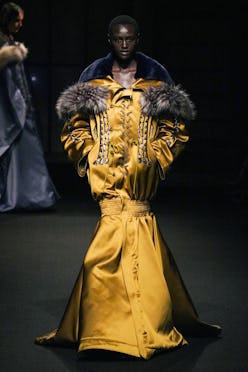 Often designated as an afterthought for the winter season, parkas and anoraks are those essentials that you reach for as a reaction to dropping temps and icy elements. However, Altuzarra's Fall/Winter 2023 collection is bumping outerwear to the top of your wardrobe, showcasing the otherwise technical separates in sophisticated and even formal renditions. Yes, in his recent presentation at the New York Public Library, Creative Director Joseph Altuzarra transformed traditional winter jackets into veritable works of art, adding his signature tie-dye touches as well luxe silk fabrics and playful peplum silhouettes. And while it may seem difficult to bring an elevated even ethereal vibe to something as technical as outerwear, Altuzarra pulls it off easily, showing the pieces as worthy additions to a formal ensemble.
The pieces served as thread to a longer story being woven within the collection, centered on ancient Greek mysticism and folklore and a nod to Charlotte Higgins' Greek Myths: A New Retelling. "Nature is both a means for divination and a force of its own," read the official show notes. "As the collection progresses, the natural world overtakes the human, reclaiming the body for itself. Fall Winter 2023 represents the final chapter in a four-part series focused on ritual and myth."
George Chinsee/WWD/Getty Images
George Chinsee/WWD/Getty Images
The first leg of the showcase, which kicked off with a full-length watercolor parka lined beautifully with faux fur, featured "bold amorphous artworks evocative of Rorschach tests and created with real folded inkblots," according to show notes. The second chapter of the presentation brought more of Altuzarra's go-to design approach into focus, with "soft, Shibori landscapes [...] handcrafted with the Japanese tie-dying technique that has become a signature of the brand." Botanical prints, seen on full-length silk gowns, were also incorporated, representing symbolic divination, "hand-painted and meticulously engineered to mirror, and even replace, the anatomy of the body."
George Chinsee/WWD/Getty Images
George Chinsee/WWD/Getty Images
Amongst the fluid, sensual, and free-flowing fabrics were more grounding materials like leather — there were off-the-shoulder and cutout gowns, blazers, and opera gloves — and soft, sumptuous jersey — which was wrapped and draped around models head to toe as fitted, full-length gowns. "Minimal and monolithic column dresses and floor-grazing fishtail skirts convey the sensuality and ease that Altuzarra is known for with quiet drama," explain the show notes. "Draping and hoods, whose colors and moods also inform an earthy, jewel-toned color palette, evoke the dreamy world of Alma Tadema paintings."
George Chinsee/WWD/Getty Images
George Chinsee/WWD/Getty Images
Rounding out the collection, Altuzarra drove home his ode to outerwear, sending models down the runway in floor-length, silk anoraks with fur-lined hoods in elegant shades of gold, steel blue, and mint green for the most dramatic finish. "Beginning and ending with the iconic parka, Altuzarra's vision for modern femininity is expressed within the context of utilitarian outerwear," read the show notes. "Borrowing from the language of 1950s and 1960s couture, coats and jackets feature dramatic peplums, oversized collars, and cocooning silhouettes. Exaggerated proportions speak to the confidence of the Altuzarra woman."
Witness the magic for yourself and see if you don't start seeing tie-dye in a whole new light.