Shoreditch Ski Club's Wil Beedle Is Making Street Style-Ready Ski Wear
Lindsay Hattrick/TZR; Shoreditch Ski Club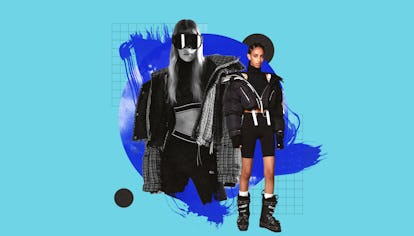 We may receive a portion of sales if you purchase a product through a link in this article.
It's no secret the winter sportswear industry is booming. In fact, according to GlobeNewswire, the global ski clothing market size reached $1.2 billion in 2020 and is predicted to hit $1.6 billion by the end of 2027. And while, yes, household names like Moncler and Bogner continue to dominate the space, there's a new must-know label in town. Enter Shoreditch Ski Club, founded in 2018 — and launched globally last year — by fashion industry veteran Wil Beedle. Based in London, the emerging brand is cultivating a name for itself by creating eco-friendly and streetwear outerwear that works just as well on the slopes or après ski as it does on the downtown city scene.
In the last four years alone, Beedle's creations have been seen on the likes of Bella Hadid, Karlie Kloss, and Adesuwa Aighewi. Meanwhile, while the label is rooted in high-performance cold-weather gear, its Instagram feed serves as the ultimate reference for incredible winter street style. And just last month, Shoreditch Ski Club introduced Le Club, a series taking followers along as It girls give a behind-the-scenes look into their ski adventures — while keeping warm in the label's cozy offerings, of course. (Their latest muse, @hel.wicz, is one to follow.)
The Man Behind The Brand
Unsurprisingly, Beedle has quite the track record of knowing what chic, creative people want to wear. The British designer, who initially studied English literature before establishing himself as a fine artist, fell into the fashion industry by accident when none other than edgy high street mainstay All Saints co-founder Stuart Trevor stopped him on the street. "He asked me, 'What clothes are you wearing?'" remembers Beedle. "[Then he goes,] 'Would you like to come and work with me back in London?' And I just went for it." Beedle spent 18 years at the brand — 10 of which he served as chief creative director — honing his craft.
Fast-forward nearly two decades later, and the designer was ready to launch a label inspired what he was passionate about: winter performance pieces. "I've always had a fascination for the technical skiwear," he tells me over Zoom, reflecting on why he decided to make the career move. He adds the need to create versatile outerwear that would transition from the mountains to the city appealed to him. "I love the idea of this dialogue between what is often a very aspirational bourgeois luxury culture of skiing and juxtaposing that with the codes of an edgier visual language."
Moreover, Beedle was eager to fill a gap in the market for sustainable coats. "So many brands in the outerwear space were not respecting the [eco-friendly] values that I held," he shares, explaining that the label utilizes luxurious, responsibly-sourced materials like recycled nylon, recycled bamboo, and organic cotton. And while this might sound like the complicated route to take, responsible design has only expanded Beedle's vision — starting with the label's bestselling Willow parka.
The Coat That Started It All
"I wanted to create something as versatile as possible for women worldwide and adhered to really responsible practices," say Beedle of the style, which is made of plastic bottles and recycled nylon. The one-of-a-kind topper is thermo-tested to 10 degrees Celsius below zero — a godsend on those miserably cold below-zero days. "The one thing I was most aware of was the need for it to genuinely protect," he explains about making the jacket. "And the feedback I have consistently is it keeps you warm and dry." The water-repellent piece, priced from $798 to $895, remains a brand signature today — and it's now available in a handful of colors, from solid caramel to glossy maroon.
For Beedle, however, a well-crafted piece is only half the equation. He also carefully examines how his clients style their jackets. On our call, he recalls a recent moment in Los Angeles that stood out to him. "A girl was wearing one of our cocoon shearling jackets; she bunched it up and was all cocooned in this thing," Beedle explains. The way she created more volume with the jacket by belting it immediately caught his eye. "And I was like, 'OK, great. Maybe that's next season. Maybe that's what we need to do.'"
Despite his impressive resume and spot on instincts, Beedle struck out on his own with a healthy level of trepidation. "It was an interesting challenge," he remembers. "It was exhilarating, wonderful, and terrifying all at the same time." Of course, it didn't help the entire world shut down within a year of debuting his label; however, the designer's passion for his new venture helped him stay the course. "It's a wonderful discipline to be completely clear in your intention and message and to be as precise as possible," he adds. From the get-go, Beedle strove to stick by his founding ethos, which he explains as "taking this identity from East London and connecting it to as many people as possible all over the world in a sustainable way — but without compromising in any way on the aesthetics, attitude, and the vibe of what we were doing."
The Label's Evolution
While Shoreditch Ski Club is certainly on the path to success, Beedle understands that even the most sought-after brands need to grow and change. To wit, he's recently added luxe shearling coats, which are sourced from top-notch tanneries in Italy, Iceland, Ireland, and Spain, to his repertoire (just the thing for wearing to the lodge after a long day at the slopes). Then there are the label's edgy leather biker jackets, made from Gold Leather Group standard recycled leather (and at least 50% recycled fibers). And while the label is known for its outerwear, it carries sumptuously soft jersey tops and leggings, too.
But at the end of the day, Shoreditch Ski Club resonates with myriad people, from bona fide skiers to street style stars, because the pieces are equal parts functional and of-the-moment. "I guess that's why I carried on with the brand: because this precise kind of distillation of what a future brand could look like had developed some momentum and traction, and people had started wearing it," Beedle says, before putting it more succinctly: "People say [they're] the jackets all the cool girls wear."
Shop Shoreditch Ski Club's must-have outerwear and jersey essentials, below.