Where To Shop In Paris: An Insider's Guide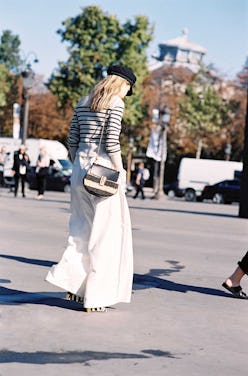 There are two types of shopping experiences in Paris. One is the highly romanticized, day long jaunt through quiet streets and up uneven alleyways, all in the name of finding that perfectly original, charming store that magically has everything in your size. The other experience is one that involves big-name department stores like Printemps, Galleries Lafayette and Le Bon Marché. If you're last-minute holiday shopping for friends and family, a trip to Printemps might be your best bet. But if you have time on your hands (and a few euros in your pocket), you might want to take some time to visit the lesser-known gems in the City of Lights.
The (Shopping) Road Less Traveled
Buly 1803.
Stepping into Buly 1803 is like stepping into a time machine and being transported to the apothecary your great great great grandma frequented. Whether you're in the market for an original scent or the perfect candle for your discerning mother-in-law, Buly 1803 has something for you.
Address: 6 Rue Bonaparte
Chez Moi
Chez Moi was designed with homebodies in mind. The store, which is set up like someone's own living space, sells everything from trendy light fixtures to the glass water bottle you never knew you needed.
Address: 25 Rue Hérold
L'Eclaireur
Go for the life-size horse statue and stay for the shelves of bags and racks on racks of clothing from designers like Balenciaga, Rick Owens, and Maison Margiela. Curated with a focus on modern luxury labels, this is the perfect place to go if your wardrobe is in need of a quick update.
Address: 39-41 Avenue Hoche
The Broken Arm
There's no shortage of great shops in the Marais, but The Broken Arm offers something a bit different. Started by three former fashion and lifestyle bloggers, the space is an aesthetic dream, and the collection of clothing, limited editions sneakers, and coffee table books isn't so bad either.
Address: 12 Rue Perrée
Les Trois Marchés de Catherine B
When all is said and done, there are only two things that really matter in life: Hermes and Chanel. Enter Les Trois Marchés de Catherine B, the shop that designer dreams are made of. Pristine Birkins are laid out next to silk Hermes scarves and enough Chanel tweed to make you forget about the real world.
Address: 1 Rue Guisarde
Centre Commercial
Centre Commercial is a clear departure from every shop you've stepped into in the past few months. While it seems that every high-end store stocks their shelves with the same few designers, Centre Commercial seems to avoid pandering to the trends du jour. Instead, you'll find well-crafted pieces from up-and-coming designers.
Address: 2 Rue de Marseille
Merci
Everyone's heard of Colette, but if you're itching for a different kind of concept store, head over to Merci. The space, which was originally a wallpaper factory, has all the trinkets you never knew you needed. Head downstairs to grab a coffee in the Used Book Café, which looks as adorable as it sounds.
Address: 111 boulevard Beaumarchais