How One Fashion Girl Went A Year Without Shopping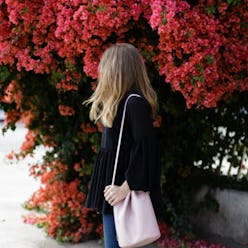 As the managing editor of Rue magazine, an online fortress for stylish living, LA-based Kelli Lamb has a keen eye for good design–decor, clothing and otherwise. But a few years ago, pre-Rue, deep down the rabbit hole of fast, cheap fashion, Kelli decided to take a clean break from shopping. She gave her credit card a rest and committed to an entire year of no new clothes, no new accessories. Megan McCarty of Wit & Delight chatted with Kelli to discuss why she did it, what she learned and how the year has affected her buying habits now.
A few years ago you decided to take an entire year off shopping—no clothes, no accessories. Tell us everything. First off, why?
I was actually looking for a blog topic. I was living in Boise, Idaho, and working at a health and fitness website. I desperately needed a creative outlet, so I started a blog. However, I didn't find my life exciting enough to blog regularly, and I wasn't yet familiar with style or design blogs. So I'd sit down and realize I had nothing at all to say about my boring life. I decided that a structured topic would help me find things to write about and encourage me to continue writing as often as possible.
Before the year began, what were your shopping habits like?
Keep in mind, this was 2010 and I was a 22-year-old with little responsibility. I would be invited to a birthday party, and stop at the mall the day of the event to buy something to wear that night. I would buy things at Forever 21, the sale rack at Urban Outfitters, discount stores like Marshalls and TJ Maxx. It was very much a mind-set of cheap, fast fashion. I would think, This party is at a sushi restaurant and we're going dancing after, so I need a black dress and heels. I would never look in my own closet. I don't know that I spent a ton of money, because at that time I had little to no money, but I bought a large volume of super-cheap things that would be donated to Goodwill within a year.
How did you prepare for your year of no shopping? Did you organize your closet, stock up on basics or indulge in one last hurrah shopping trip?
I had been on a trip with friends in Las Vegas for spring break just a few weeks before the year began. We spent a day shopping—there was a J.Crew sale and I went to Madewell (Boise didn't have one!) to stock up on basics. However, it wasn't much of a "hurrah"—the idea of the blog was still just an idea. If I were to do it today, I'd have bought a great pair of jeans, high-quality white and gray tees and a few good pairs of yoga pants. Then, I went in blind!
To read the rest of the article and find out how she fared, check out The Everygirl.