How To Find Your "Forever" Shearling Jacket
The right style should last you for years.
@shoreditchskiclub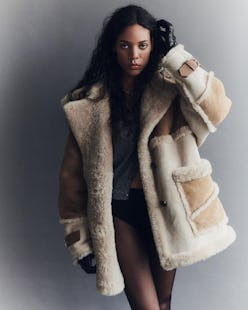 We may receive a portion of sales if you purchase a product through a link in this article.
Outerwear trends come and go at warp speed, and every season there seems to be a new of-the-moment style (remember the Toteme scarf jacket that dominated last year?). There is, however, one classic look that'll never leave the fashion scene: a shearling coat. Snuggly and sophisticated in equal measure, the ultra-fuzzy winter staple is a godsend in frigid temperatures. However, it's not the easiest item to shop for. Style aside, there's a number of things to consider before making a shearling purchase — fit, quality, functionality — especially since it's an expensive item.
"Shearling is a timeless fabric that will last forever if looked after," says ME+ EM's CEO Clare Hornby, who firmly agrees that you'll want a jacket that serves you for many seasons to come. "So invest in quality pieces and opt for classic styles that won't date."
As for choosing said timeless pieces? According to Monty Goodson, the product specialist at heritage outerwear brand Overland (which celebrated its 50th anniversary this year), it helps to start by thinking about how and why you'll wear the piece. For instance, "Do you want it short and tactical or fashionable and fun? Will you be wearing it on a train platform in Chicago or Boston? Do you need it to be down to your mid-calf for protection?," he asks. Once you answer some of these key questions, you'll likely have a better idea of what style best suits your lifestyle.
Keep scrolling for more advice on shopping for shearling and how to maintain them from the experts.
Consider Your Climate
The chillier your hometown, the more you need to worry about the technical aspects of your shearling outerwear. As a general rule, Goodson says the longer the wool length, the more thermal temperature it creates around your body. For those who need something practical, the expert recommends a Toscana shearling, which is an unshorn sheepskin that has long wool. Another option? Wil Beedle, the founder of industry newcomer Shoreditch Ski Club, points to his brand's Reva coat which is made from Merino shearling. "That'll keep you super warm; it's very, very deep and plush because it's [sourced from Iceland] which has a much nicer hand."
However, if you reside in a location where the temps rarely dip below 60, you don't need to worry about cocooning yourself in an ultra-toasty style. Rather, opt for something less heavy, like Merinillo shearling. "It has a super lightweight quality that will keep you less warm than maybe something denser, has perhaps a longer hair, and is more voluminous," Beedle says, noting that for rain and snow-heavy weather, it's worth going for a coat with a nappa leather finish (versus suede), as it's a more resilient option.
Focus On Fit
Your shearling topper should follow the shape of your figure, but still have ease of movement; over time it will give a little and contour to the shape of your body. Beedle recommends choosing a style that'll allow for layering underneath. "You always want it a little bit generous," he says. "And I always think it looks a bit cooler oversized." Additionally, Astrid Sebane, SANDRO's senior communication and marketing manager, says the coat's sleeve length should hit right around the wrists for an overall comfortable feel.
While shearling jackets, in general, are the epitome of timeless, that doesn't mean you can't pay attention to trends. Short jackets, for one, are a sought-after look this season, according to Hornby. She adds that ME + EM's reversible shearling biker is a best-selling style. "We've been producing reversible styles for years, and they will always be some of our most popular styles," she explains. "I think because it allows our customers to get more from a higher price point item, it's like two pieces in one."
And over at Shoreditch Ski Club, Beedle reports that the aforementioned relaxed Reva coat is a look all the cool girls are wearing right now. The Daia is also gaining traction this season. "It's super oversized, but it also kind of nipped in and sits well on the waist," he says.
Set A Budget
A shearling jacket is definitely an investment — be prepared for the price point to be around $500 and up. Anything lower than that means there was likely some sort of compromise made in the production process, be it by way of raw materials or manufacturing standards.
Of course, you needn't buy a brand-new shearling jacket; secondhand is not only an eco-friendly route, but also a more affordable one. The resale market is replete with incredible finds, so consider checking out your local thrift stores as well as sites like Depop and eBay. But how can you tell if the quality is good? Easy: "I would say give a little tug on the wool and see if it comes off the leather easily," Goodson explains. And if it does, the shearling specialist says it's likely dried out beyond repair — meaning you may want to put it back on the rack. What's more, brush your hands through the fur to ensure it's soft and not coming off the skin.
Make Your Investment Last
After finding your dream shearling jacket, you'll want to ensure it's properly cared for — which might be an easier undertaking than you think. "Most people think they're delicate, but they're really quite durable," explains Goodson, who insists all you really need is good suede brush.
However, accidents are going to inevitably happen. If you get any oil-based stains on the outerwear, Goodson suggests putting on a bit of dried corn starch, which will eliminate some of the damage. And for sugary spills, he suggests using a warm wash cloth to gently wash off the liquid. Rather go the dry cleaning route? The product specialist says to do you homework first. "Sometimes companies use solvents, which tend to either change the color or the texture of the suede," he warns. "You always want to ensure you're dealing with a reputable cleaner who knows how to handle it [shearling and suede]."
And should you need to store your coat, a fabric garment bag (or really any breathable covering like a cotton pillowcase) will do the trick.
Ready to dive into shopping? Ahead, find a few TZR favorite picks to get you started.