As A Fashion Editor, I've Tried Every Suitcase Out There — And This One's The Best
It has literally withstood tornados.
@rimowa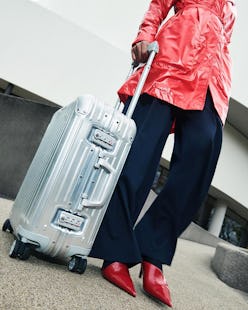 Zigzagging through endless conveyor belts, going into the underbelly of a plane, making a rocky reappearance at baggage claim — a cycle of extreme wear and tear is simply part of using one's suitcase. It is bound to collect a few nicks and dents, or if you're unlucky enough... a missing wheel or a broken handle. So as a fashion editor who constantly travels for work, I can't afford to not carry high-quality baggage that can withstand a bit of a beating. And really, I've tried nearly every option out there, from giant trunks to ripstop weekenders. But the one bag I always come back to? My Rimowa Cabin carry-on. The LVMH-owned luggage company created the first ever polycarbonate and aluminum suitcases, making it one of the most durable ones on the market. Over the years, they've literally survived accidents, fires, and tornados — not kidding!
And that said, my Rimowa of choice costs $900, which I understand is hardly a budget option. But hear me out: The brand offers a lifetime guarantee, something I can tell you firsthand is an essential feature when buying a piece that needs to last. I have spent more money than I care to share replacing lesser suitcases over time; I would have been far better served by investing wisely from the beginning. Moreover, the cases have a high-tech functionality and patented multi-wheel system, are beautifully designed, and come in multiple sizes and colors.
While the label is bit of an insider secret — and a fashion editor favorite — it's certainly not new to the luggage game. This year marks its 125th Anniversary. And to celebrate, Rimowa recently opened "SEIT 1898," an exhibit that takes visitors on a journey through its technological evolution over the decades, starting with the company's 1898 inception. The display has already shown in Tokyo, Japan (which I got to preview this summer) and just landed in New York City, where it will be open through September 17 at the Chelsea Factory. Later, the tour will conclude in the company's hometown of Cologne, Germany.
The beautifully designed space in the Big Apple has an almost interactive feel, and the curators have taken care to reinterpret the brand's rich history in a creative way (read: no fussy suitcases accompanied by dated plaques). You'll get to take in archival pieces as well, including the first-ever waterproof aluminum design, a vanity case, and a wooden steamer trunk. But SEIT 1898, doesn't just feature luggage: There's also a selection of special one-of-kind pieces Rimowa has created over the years, like speakers, a television, and even aluminum-grooved house.
Martha Stewart's go-to Rimowa bag.photos courtesy of Rimowa
A collection of special-made Rimowa cases and objects.
In my opinion, though, one of the biggest showstoppers of the entire exhibition is a collection of suitcases donated by famous friends of the brand. This includes musicians like Patti Smith and Billie Eilish, supermodels Bella Hadid and Adwoa Aboah, and sports legend Roger Federer. It must be noted that domestic goddess Martha Stewart has also offered up her favorite wheeled bag for the show. And I don't know about you, but if it's good enough for the famously discerning tastes of Stewart — she of iceberg ice cubes and handpicked heritage tomatoes — it's definitely good enough for me.
Check on Rimowa.com for more information on the exhibit and to shop the long-lasting luggage.