Rachel Zoe's Collab With Nori Is Here Just In Time For Holiday Parties
@meetnori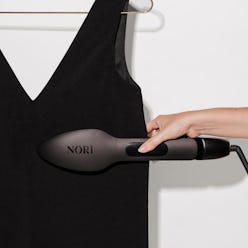 We may receive a portion of sales if you purchase a product through a link in this article.
Ohhh, wrinkles — they love to ruin your outfit at the most inconvenient time like, you know, weddings you really can't be late for and important work meetings. Of course, a good steamer solves this all-too-common fashion conundrum. But perhaps you've been dragging your feet in upgrading your old device, which sometimes works and sometimes doesn't (speaking from personal experience over here). Lucky for you, with festive soirées filling up your calendar, the new Nori Press shade, which was made in collaboration with celebrity stylist and fashion expert Rachel Zoe, couldn't come at a better time. Together, they launched the "little black steamer," aka the chicest take we've ever seen on the everyday tool.
Zoe shared the news of her latest partnership on Instagram last week, posting a step-by-step video showing how she uses the steamer/iron hybrid. "I'm so excited to share with you my latest obsession, which is something I co-created with my good friends at Nori," the renowned stylist said in the clip, right before the camera zooms into the device in action. "I have to tell you, I can not imagine a better gift for the holidays for any occasion at any time of year. You will be so obsessed, and it looks beautiful in any room."
Featuring a matte finish and limited-edition metallic gold plates, the steamer retails for $120 and utilizes the same technology as the lauded Nori Press. For those unfamiliar with the gadget, here's how it works: Turn on your preferred fabric setting (polyester, silk, wool, cotton, denim, or linen), wait a few minutes for it to heat up, and then get to work — no ironing board necessary. Plus, the tool has two heated sides, meaning the back and front of your clothing can be ironed at the same time. Pretty genius, right? Another perk: It weighs less than 1.5 pounds, making it perfect to pack for trips.
Ahead, shop Rachel Zoe and Nori's steamer, and you'll never have to worry about a wrinkled outfit holding up your morning routine again.