9 LGBTQ+ Creatives On What Queer Style Means To Them
Self-expression is a unifying theme.
@essiegolden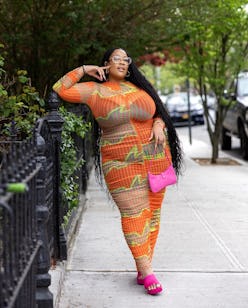 It's a tale as old as (gay) time: A young queer person, in realizing and beginning to articulate their identity, will often go through a reckoning with their wardrobe. Do I look gay? How will I signal to other queer people that I'm one of the gays-and-theys? How will they know I like them like them? Do you go for the thumb ring, the singular right ear lobe piercing, a shaggy little mullet, or start incorporating some ever-so-subtle rainbow into the mix? Jokes aside, while what I'm describing is not necessarily a universal experience, it was definitely part of my style arc. I was a fashion-obsessed girl who, in the early 2000s, eschewed her usual Marc by Marc Jacobs-inspired dresses to adopt a wardrobe of skinny jeans, fedoras (I know, I know), a shorter coif, and slip-on Vans... only to then turn a corner and temporarily adopt a retro-rockabilly femme uniform. (You can't interfere; it's a canon event.)
Of course, there's no such thing as a singular queer aesthetic. Anyone, in any style, can identify however they like. But for many within the community, their relationship to getting dressed is a personal and complicated one. Their clothing choices can be impacted by their safety and the ability to be visible, or the desire to be seen. It reflects the subtleties and cues with which queer people can find each other, access to fashion that feels affirming, and, most simply, the very innate desire to self-express.
As my peers face increased hostility and anti-LGBTQ legislation, the overall tone of Pride Month has taken a shift this year with many corporate sponsors taking a step back. An authentic show of self — be it through wardrobe or otherwise — has never felt more important. I spoke with nine LGBTQ+ tastemakers on their style, identity, how they're honoring Pride, and the very queer art of dressing, this year.
Design director for American menswear brand Outlier, as well as her self-guided studio practice, Willie Norris Reworkshop
How do you define your personal style?
"Carhartt and Alaïa walk into a gay bar…"
What type of clothes do you gravitate toward?
I don't have a personal uniform in the sense of having identical garments that I wear every day. I wish that type of thing worked for me, but it doesn't. Instead, I have a few different formulas of dressing for different types of occasions that allow me to feel my best. For example, for dinners and industry events in the evening, I know I feel my best in all black (occasionally a rich, dark navy will also work) with silver accents in the form of exposed zippers, accessories, or jewelry. I like to keep it tight on top, with my shoulders exposed.
I like a low-slung, floor-grazing trouser on the bottom. I rarely stray from this, and it always serves me well. I have similar formulas for workday, weekend, and home lounging fits. Getting dressed can feel like a gargantuan undertaking sometimes, so having a loose template formula to help me along the way saves me time and emotional energy.
How are you celebrating Pride this year?
I'm thinking a lot about how proud little Willie would be of where we are in 2023. I am hugging and kissing my friends, expressing true gratitude for where I am and who I'm surrounded by.
Lydia Okello, Vancouver, British Columbia
Digital creator, writer, and model
How do you define your personal style?
I dress with color and comfort in mind. Somewhere between a retiree or a small child, all with a dash of frivolous.
What type of clothes do you gravitate toward?
I'm Black, fat, and nonbinary — when I came out at 25, I felt like my style didn't match how queer folks thought I should act. There is a history of Black fat queers being coded as more traditionally masculine; I didn't ID with that. My sartorial desires felt more aligned with that of fancy/frilly femmes, especially femmes who didn't identify as women. I had a really hard time untangling the misogyny and transphobia that made me feel like I was wrong being just me. It took reading, research, reflection, and having more nonbinary friends to let go of that bullsh*t.
Fashion and personal style has historically been intrinsic to queer identities — whether it was flagging, genderfluid dressing in private queer functions, or exuberant and flamboyant dressing; to me, style is a huge part of queer culture. We made our identities and desires known to our community in subtle and bold ways through clothing — something that feels vital to being seen.
How are you celebrating Pride this year?
Definitely dancing until a little too late at night, laughing and gathering with my queer friends and family, taking some time off of work to bask in queer joy and deep diving into queer media — even more than the usual consumption. I feel like this year I am craving queer joy more than previous years with everything that is happening politically. I'm really looking forward to it.
Social media strategist and writer
How do you define your personal style?
Bette Porter meets early aughts Kelis directed by Nancy Meyers.
What type of clothes do you gravitate toward?
I feel most like myself in anything that prioritizes comfort while still looking expensive. Yes, I am a Taurus. My weekday uniform: Horseshoe Citizens of Humanity jeans, an oversize white button-up, Black Cuup bra obviously showing, and lots of silver rings. My weekend uniform: some tiny titty-forward top, baggy pants or low-rise skirt, and knee-high black Labucq boots that changed my life.
During my "coming out," I did the classic copy the girls you had crushes on and quickly realized that cosplaying the top of my dreams was never going to be my look. Eventually I just let myself find a nice bridge between what feels true to myself and [being] performative in a way that is rooted in comfortable play — not pretending to be someone I am not.
I didn't feel pressured to adopt cues that signaled queer identity; I felt excited by it, honestly. I love little nods. Little signs and secrets that feel like ours: Blundstones. Button-ups. Cargo pants (personal fave). Merrells! An unnecessary amount of silver rings. That being said, of course anyone can wear these things, and queerness is internal not external, but it feels fun to have these little identifiers that can connect people.
How are you celebrating Pride this year?
By resting whenever I need to. By saying no! By boundary setting! Pride often exhausts the queer people it hopes to celebrate and the great thing about being gay is you can do it all year long.
Content creator
How do you define your personal style?
Preppy, sartorial, and casual-chic.
What type of clothes do you gravitate toward?
I'm a short king at 5-foot-5, so unfortunately buying clothes off the rack comes with common pain points: sleeves are too long, shirt length bunches at hips, pant legs are too long, etc. When it comes to style, nothing is more powerful than wearing an outfit that immediately makes me stand taller and prouder, and for me that's wearing tailored clothing For the majority of my life, I was seen as a woman wearing men's clothing. Growing up, I wasn't allowed to wear what I wanted to wear, which was clothes and shoes from the boys section. I didn't have those years to experiment and grow into my style as I aged. So now in my adulthood, as the man I am today, I'm getting to explore men's clothing and play around with styles.
How are you celebrating Pride this year?
This year, I'm celebrating Pride with my first fashion modeling campaign. I'm proud to be part of the all-queer cast in the Abercrombie Pride Year-Round campaign, in stores all over North America and the United Kingdom. Now more than ever, the world needs to see trans people in their passions. To be recognized for my love of style and fashion as an openly trans man means everything. Being trans is a beautiful expression of self-love, but there's so much more to us than our gender identity. We have hopes and dreams and passions. To all the trans kids out there, this is for you. Keep going: Keep pursuing your dreams and passions. You're going to change the world.
Gia Love, New York, New York
Activist and model
How do you define your personal style?
My personal style is one of comfort. I love to feel good in my own skin, and when I feel comfortable, I am able to exist in the world in a powerful way. I have the ability to take charge of the way I look. In the world we live in, being comfortable is not something that is often afforded to us. I like to take comfort into my own hands and use my style as a manifestation of my power .
What type of clothes do you gravitate toward?
If I had a personal uniform, it would definitely have to be some leggings with a cami and some fab sneakers. I am a city girl, and I love to attack cities being able to move, strength, and deal with all the things that go with our environment.
One of the themes in my life has been to go for the things I want. When someone asks me about my style, I always say I wear what I want. I don't really go out and buy things that are on trend. It is very important for me to have freedom in the way I express myself through fashion.
How are you celebrating Pride this year?
I am doing what I do all year around. I am taking care of myself and showing up for community.
Essie Golden, New York, New York/Los Angeles, California
Content creator
How do you define your personal style?
Street, sweet, and chic. My style depends on my mood. Most times it's super femme with a touch of sporty.
What type of clothes do you gravitate toward?
Some days I want to be sexy and show off my curves and other days I'm in a shapeless dress and sneakers. All of those things are me. I give myself space to try and wear it all.
When I first started dating women, most if not all were masculine presenting. I mostly dated studs. There was this unwritten rule that if you dated a stud you had to be super femme — dresses and high heels only. This was when I was living down South, which has its own weird rules, especially in the Black community. My ex at the time wanted a girl that wore makeup, long hair, and tight clothes all the time. I felt like that was what I was supposed to do. It was my duty as a femme. It was hard to keep up at times. It wasn't until I moved to NYC that I saw another way. I met so many "no labels." You could date whoever and wear whatever. It didn't take away from who you were. That changed me. I started wearing more of what I wanted.
How are you celebrating Pride this year?
I'll be in my hometown of Orlando, Florida, hanging out with friends and family. Many of the places that became my safe haven are no longer around. Parliament House and Pulse Night Club were places that raised me. So many firsts happened in these places. I met my first girlfriend on the dance floor — it was love at first sight. I met strangers who became my family. I'll never forget the pioneer Darcel Stevens telling an insecure girl like myself that I was beautiful. She held my hands and looked me in my eyes and gave me a much needed pep talk. I knew she meant every encouraging word. I'm sad about what's happening to these places. Even sadder around the laws and changes that are affecting my people. So many of my friends are moving out [of the state]. I'm going home to be with them and celebrate safely.
Model, advocate, activist, and brand inclusivity consultant
How do you define your personal style?
My personal style is really a mix of my masculine and feminine energy, some days I'm more than the other or a mix of both. In short, my style is essentially is a mix of sexy and sleek.
What type of clothes do you gravitate toward?
What makes me feel like my authentic self is when I'm able to exude and express both my masculine and feminine expressions through style and fashion and having fun with it. I love being able to mix styles and mesh them together, I also love expressing how I feel from the inside to the outside through my style. I want my style to be a reflection of me as a whole. Once I got into modeling and experiencing spaces and people who were unapologetically themselves in fashion, and who also had similar identities to mine, really helped me to identify my style and how I also wanted to express myself.
My style had changed a lot. I was wearing what I could find that fit — baggy untailored pants, boxy shirts, and T-shirts — but it never really was my style. Now I'm more adventurous but also have a bit more plus-size options as well. I have fun with it and play in both women and men's section. Why not? It's clothes, and clothes are for everyone.
How are you celebrating Pride this year?
I'm honoring Pride in many ways, supporting brands that support us, putting money where it can help the community, and having conversations with companies and brands behind the scenes on not only using LGBTQ+ models and people one month out of the year, but to see us as every day talent — regardless of our identities and bodies. I'm also honoring by showing up and taking up space; most importantly, I'm remembering those that came before us who are the reason for Pride.
Zoya Biglary, Los Angeles, California
Founder of Fysh Foods and content creator
How do you define your personal style?
Minimalism meets practicality. I love being able to throw together (what I consider to be) a decent outfit in 30 seconds.
What type of clothes do you gravitate toward?
My wardrobe is mostly black because I am Iranian, and it's essentially the national uniform. When I'm feeling really edgy, I'll sprinkle some white, gray, and neutral pieces in. At this point, I refuse to purchase any item of clothing that doesn't pair well with most of my existing wardrobe, though; it'll never get used. I fall in a middle ground where I don't love a lot of women's clothing but don't necessarily love or feel great in men's clothing. I like playing with both masculine and feminine style elements to wind up with a somewhat androgynous look, but there are times it falls flat for me. I've learned to love certain pieces more by getting them custom tailored for my body so it feels like it's for me, regardless of which section of the store it came from.
I dressed more femme initially when I was younger. I was still concerned with fitting into conventional norms of what was "attractive," and that overrode my own interests. Then, like many others, I took a harsh turn and really tried to "look gay/masc" after a few years, regardless of how I actually felt in the outfits. That was a mess, glad it's over. As I've become more confident and comfortable with myself, I've seen the same thing happen with my style. I don't care about looking a certain way. Except cool — I just want to look cool.
How are you celebrating Pride this year?
I'm celebrating Pride with gratitude for my accepting family, incredible girlfriend, and community. I'm also thinking about all the people around the world who aren't openly out yet, for whatever reason. I know how hard that is, and I'm sending lots of love to you all.
Drag entertainer
How do you define your personal style?
A combination of old school and new school entertainment.
What type of clothes do you gravitate toward?
For me the role of fashion and style is to celebrate individuality, and fully express who you are. I love a good disco look. I draw inspiration from Whitney Houston, Donna Summer, Diana Ross, my mom and aunts.
In my early days, whatever I could get my hands on that fit, I wore. Being a person of my size, it was always hard to find clothes that fit. Being broke didn't help either! Now, I wear what I want; the music inspires me ,and I have someone make it. I go for items that complement my shape yet still have a sense of style. Not easy sometimes, but I make it work.
How are you celebrating Pride this year?
I normally celebrate Pride in April with Miami Beach Pride. But I will continue to use my voice to speak out against the drag restrictions in Florida.
These interviews have been edited and condensed for clarity.