Of Course Proenza Schouler Knows How To Make Acid Wash Look Chic
They've got the red tights look on lock, too.
Courtesy of Merit/Proenza Schouler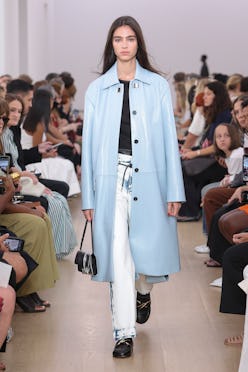 Cringe-worthy as the term is, there's a reason why everyone is talking about "quiet luxury" these days: Easy, effortless, and elegant pieces are always going to look good in one's wardrobe, and they'll work with most anything you own to boot. This is a truism that Proenza Schouler designers Jack McCollough and Lazaro Hernandez have fully embraced as of late. And their Spring/Summer 2023 show? Perhaps the best display of a striking-yet-subtle look yet.
Elegantly ruched maxi dresses, mesh base layers, long leggy trousers — these were just a few of the hardly basic basics that the brand took to new heights on the runway by way of a masterfully cut silhouettes and deeply chic color combos. (A black T-shirt and navy car coat? Oh, yes please.) Low slung skirts were scrunched just so toward the top; western style booties evoked a sense of downtown-cool. Nothing on this catwalk was complicated at first glance — not even the naturally sculpted glam, created with MERIT makeup by Diane Kendal — but it all felt deeply sophisticated in the nonchalant way it was styled. The models could easily double as (very tall, very leggy) urban creatives who rushed to get dressed on their way to important coffee meetings. In other words, nothing felt impossibly editorial... although there is no doubt the styles will make the glossy magazine rounds this coming March.
Courtesy of Merit/Proenza Schouler
Of course, an attention to tailoring and incorporating graphic elements have always been go-to design moves for McCollough and Hernandez. But it is interesting to see how they've evolved their house over the years from something a little funkier (think intensely bold patterns and tie-dye effects) to the quieter statements found throughout this particular collection, like iridescent paillette pieces, minimalist belt bags, and long mesh tunic tops. Even a head-to-toe red look — including tights! — felt low-key in its simplicity. It makes sense then that the duo used this moment to debut an updated house label, two ribbon-like curves to create an abstract S shape.
Courtesy of Merit/Proenza Schouler
All these changes aside, longtime fans needn't worry about the brand shifting too far from what made them love it in the first place. Case in point: A closer look at many of the jeans reveals an edgy acid wash treatment, albeit a very understated one. It seems that, in fashion, maybe old habits don't die —they just come back as something better.
Keep scrolling for a sampling of TZR's top looks from the show.