Up Your Evening Wear Game With These Going Out Sets
Bonus: They'll give you more time for hair and makeup.
@_jeanettemadsen_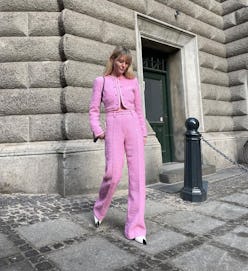 Ready or not, holiday party invites are coming in hot. Let's see... a neighbor down the block already sent over the date for their annual festive fete, didn't they? (They're so on it every year!) And perhaps a friend just hit up your crew's group message, asking everyone their thoughts on getting together for a gift exchange this year. In addition to showing up to said occasions with your mom's secret artichoke dip recipe in your hands, having an outfit that makes a bold entrance never hurts, either. But because this season is notoriously hectic, your holiday party outfits may wind up being a day-before (or, let's be honest, day-of) decision. This is where matching sets come to the rescue. The one-and-done look takes the guesswork out of getting ready for the evening — really, you can throw it on and head out the door in two minutes flat.
When choosing a co-ord for your upcoming holiday affair, there are multiple routes you can take. First, consider a sequined or metallic outfit. What's a festive soirée without a little shimmer, after all? And for those who never sacrifice style for comfort, turn your attention to matchy knit pieces. Though the fabric may sound too casual for an evening get-together, a high-shine statement earring and dressy flats can easily zhuzh up the fashion girl-loved look.
A word to the wise: To get the most bang for your buck, try reworking your two-piece looks with other separates. For example? Wear the top with, say, trousers for one event and the bottoms with another blouse for your next get-together.
Scroll ahead to find 10 party-perfect matching sets you'll look fa-la-la-bulous (sorry) in.