These Minimalist Bathing Suit Brands Are Anything But Boring
Sometimes simple is best.
@lokikiswim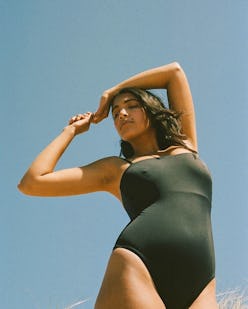 Minimalism is in the eye of the beholder. For you, it may mean a capsule wardrobe just large enough to get you through the week. Or, your approach could be never to wear more than two patterns at once. Regardless of how you incorporate the pared-down lifestyle into your closet, you've probably realized one fact about it pretty early on: Finding minimalist bathing suits can be just a tad difficult.
Simply put, there's an intrinsic maximalism to summer style that often encourages people — and brands, too — to adopt a bolder approach to fashion. This seasonally prompted sartorial attitude often manifests within swimwear (see the loud tropical prints, charged-up neon colors, and unconventional materials trending right now), which makes shopping tricky for those who prefer a bathing suit with simple aesthetics.
Yes, most swim brands offer up one or two solid designs (at the very least) that fit the minimalist bill, but those can occasionally feel underwhelming and even a bit banal. To help any minimalists out there who are tired of settling for lackluster bikinis or one-pieces just because it's all they could find, TZR rounded up 31 brands that offer exciting and fresh swimwear options. There's a style for every budget, too, whether you're in the market for a luxe designer piece or just want to pick up a minimalist bikini at the mall. If you prefer to shop from small, indie brands, they're included below as well.
Ahead, the minimalist swim brands refined dressers love.
We at TZR only include products that have been independently selected by our editors. We may receive a portion of sales if you purchase a product through a link in this article.
This article was originally published on