Mean Girls Characters: What They're Wearing Now
©Paramount/Courtesy Everett Collection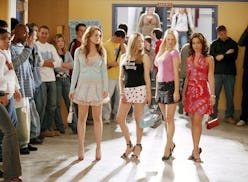 It's October 3, the official, unofficial Mean Girls Day! Not only does today celebrate one of our fave flicks of all time, this year also happens to be the 10th anniversary of the must-watch, wildly quotable movie. We're not ashamed to admit we've spent a substantial amount of time daydreaming about what the clique would be up to now. So for your shopping pleasure, we've curated a batch of Mean Girls-themed hero pieces that define each character's grown-up persona. Tell us on Twitter @thezoereport which mean girl's style you identify with most using #ZoeReporter. You go Glen Coco!
Photo: Everett Collection
On Fridays We Wear...
Cady Heron
A large part of Cady's formative years were spent in Africa which, like, totally impacted her personal style. This Isabel Marant tribal necklace is a grown-up answer to the funky baubles of her youth.
Regina George
No stranger to sporty bomber jackets, Regina would be all about this high-fashion version of the classic silhouette. And of course, since she's likely still wearing pink on Wednesdays, this piece makes for a great mid-week staple for the queen bee.
Gretchen Wieners
Plaid was a mainstay of Gretchen's high school look. This edgy dress is a lovely throwback she can turn to on the days she's feeling particularly sentimental.
Karen Smith
Karen's a mouse, duh. This adorable Eugenia Kim topper is a great reminder. Can be worn on Halloween and beyond.