These Matching Denim Sets Look So Elevated Without Any Effort
Stress-free outfit planning, ahead.
Maggie Haddad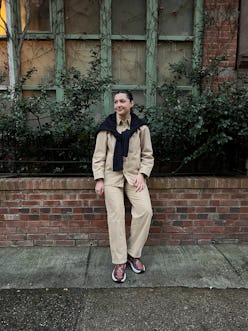 We may receive a portion of sales if you purchase a product through a link in this article.
I. Love. Matching. Sets. Not only do coordinating separates make wardrobe planning a breeze, but they can look so chic with minimal effort. But I've also always been a fan of the Canadian tuxedo, so matching denim sets are my most favorite kind to wear.
In my opinion, jean fabric is the perfect material for a set because it's comfortable, but can still look luxurious. Then, of course, there's the built-in styling potential: Some of my favorite jeans are actually part of sets, but I don't always wear the two pieces together (i.e. I can inconspicuously get more wear out of them). When you do go for the completed look, the right accessories will take things to the next level. I suggest adding elements in line with your personal style, whether that be a bold belt, a sweater draped over the shoulders, or a statement shoe.
Now that New York Fashion Week Fall/Winter 2023 has come to a close, I definitely appreciate the sartorial bandwidth that a jean set offers. After a week of dressing to the nines, I'm fresh out of new ways to get dressed! So while I gather inspiration from the runways and social media, I'm keeping things pretty simple and reaching for my go-to combination more than ever.
Ahead, you'll find the denim pairings that have saved me from numerous outfit crises, plus the perfect pieces to wear with them.
Anti-Blue Jean
As much as I love my blue denim, I also need to switch things up every once in a while. Enter: this light chestnut Madewell set. While it's not a traditional wash, it's also not overly saturated, making it easy to style with pieces from your wardrobe. I paired it with an understated navy cable-knit sweater and my favorite burgundy sneakers to add a little color without going overboard.
Tailored To A Tee
While all of Michelle Obama's book tour looks were iconic, I was completely enamored by this denim Ganni 'fit. The cut on the jacket is absolute perfection, as is the juxtaposition of the slim fit with baggier cargo pants. And I love that she went with a vinyl burgundy bootie as opposed to something neutral.
Skirt It Out
Denim midi skirts were definitely a top street style trend at this past NYFW. They can be worn so many different ways, but you can't go wrong by adding a denim blazer. From there, I'd use a white top and brown bag to break up all the blue.
Keep It Classic
As much as I enjoy switching things up, there's nothing like a timeless Canadian Tuxedo — it always looks good! I'm taking notes on how this creator made the combination her own with a shearling handbag and a thick black headband.