Marc Jacobs Pays Tribute to Vivienne Westwood For Spring 2023
It's the most punk rock to kick off NYFW before NYFW officially starts.
Courtesy of Marc Jacobs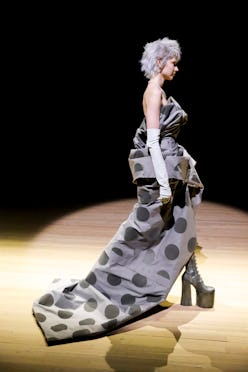 After showing his Fall/Winter 2020 collection right before the pandemic shut down the world, Marc Jacobs made his much-anticipated return to the Park Avenue Armory to present Spring 2023. Titled "Heroes," the 45-look collection is dedicated "To all of our heroes past, and young heroes present," per the show notes, which ended with an inspirational quote from the late Vivienne Westwood: "Fashion is life-enhancing, and I think it's a lovely, generous thing to do for other people." When the 81-year-old British fashion and punk icon passed in December, Jacobs posted an emotional tribute on his personal instagram, "heartbroken."
Well, kicking off New York Fashion Week over a week before New York Fashion Week officially starts feels the most punk rock — perhaps the legendary Westwood would be proud. Not to mention, the collection will be sold exclusively at Bergdorf Goodman starting June, defying the conventional multi-retailer distribution.
Last night, the mood almost felt funereal, well, in a fashion sense. Guests, including longtime friend Sofia Coppola, Ashley Graham and Emily Ratajkowski, plus downtown N.Y.C. icons Debbie Harry, Debi Mazar and Anna Sui, sat on folding chairs in a spare and barely lit space. A single spotlight illuminated solo violinist Jennifer Koh — dressed in all-black with a shock of, again, pretty punked-out hot pink hair — played a portion of Philip Glass' "Einstein on the Beach." The 1975 opera also fights the establishment by diverging from the traditional musical structure.
The first look for the collection felt like a cohesive transition from Jacobs' pandemic-era 2020 creativity, with the irreverent plays on molding tied chunky sweaters into sculptural long coats and dresses. A platinum pixie-haired model stomped out in a moody-glam trench-like coat, with a high popped collar, long-sleeves tied at the bum and iridescent glimmer. The first in a succession of impossibly-high platform boots recall Westwood's trademark towering footwear, not to mention Naomi Campbell's infamous tumble on the designer's 1993 Paris runway (which the supermodel also referenced in her tribute post to Westwood.)
Jacobs further honored and interpreted Westwood's impact through draped and twisted fabric bustiers on monochrome military green and acid yellow pencil-skirted ensembles. For subversive plays her 19th Century-meets-'80s bustle, Jacobs experimented with tactile fabrics, like a garbage bag-like eggplant hue and lush, light-catching crushed velvets. His trompe l'oeil tied-at-the-back long sleeves also mimicked the vintage flourish.
Incorporation of cargo elements, like the roomy pockets, whether in the expected lower-side location, or upside-down on an oversize red puffer collar, provoked playfulness — if not functionality to go out and fight the patriarchy. Moody gray herringbone coats evoked the rakish '80s, and recall a spring 1979 photo of Westwood with then-partner and Sex Pistols manager Malcolm McClaren. While intricate patchwork patterns of contrasting tones and fabrics on longline, high-collar puffers illustrate a homespun, individualistic energy.
This time around, a profusion of polka dots closed out the show — notably on a tonal gray high-low gown, with structured draping dramatically wrapping around the bodice and waistline to a paneled sweep train. The interpretation of signature Westwood patterns and silhouettes movingly expressed her influence on Jacobs' work and his spirit to persist.
As his runway notes read, "With the turn of another season in our endless search for value, importance and possibilities, it is through these collections that we continue our ever-expanding notions of beauty and craft. With a controlled abandon and driving frenetic energy we reflect on life beyond the studio."