Atsuko Okatsuka Kicks Off Her First Tour — And Her Style 3.0
All about the comedian's high octane wardrobe (and that signature bowl cut).
MICHAEL TRAN/AFP/Getty Images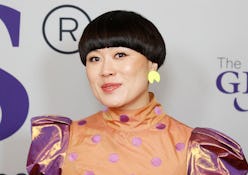 Atsuko Okatsuka's fans love attending her stand-up shows in the most complimentary manner possible — by emulating the comedian's uniform of vibrant primary colors, boisterous patterns, and strong, sculptural silhouettes.
"They even wear wigs of my bowl-cut to come to my shows now," says Okatsuka, referring to her exactingly playful coif, with a laugh. "I'm not saying, 'Dress just like me.'"
Well, we can't blame people for wanting to be like the perfomer, whom Variety anointed as one of the top 10 comics to watch last year. With 2022's The Intruder, she became the second Asian standup to host an HBO special (after Margaret Cho in… 1994). Okatsuka is also a burgeoning fashion icon. Coming full circle this past April, she posed for a T Magazine cover feature — with Cho.
Okatsuka seems quite pleased with her growing band of doppelgängers, but not because imitation is the greatest form of flattery. She finds fulfillment in motivating other people to venture out of their comfort zone and into new experiences.
"My friend Trixie Mattel said, 'You encourage people to maybe wear bright colorful clothing, or a bright colored lip,'" says Okatsuka, referring to the RuPaul's Drag Race vet and fellow standup acknowledging that Okatsuka's bold style encourages her fans to take a cue from her. "So I'm giving you permission to also try that. If you want."
Inspiring joy, comfort, and self-acceptance, Okatsuka elicits laughs through her endearingly honest and offbeat humor. Her comedy often tackles and normalizes challenging parts of her own life, including her mother's schizophrenia. Okatsuka was born in Taiwan, where her mother and grandmother are from, and spent her childhood in her father's home country, Japan. When Okatsuka was 10, she came to the U.S. with her mother and grandmother under the guise of a two-month visit. Okatsuka has discussed in her sets and on podcasts, like a recent This American Life episode, that she thought her grandmother "kidnapped" her from her father during the "jarring and confusing" time. She spent the next seven formative years undocumented.
On a July episode of the Couples Therapy podcast, hosted by Mythic Quest's Naomi Ekperigin and husband Andy Beckerman, Okatsuka shared that receiving her green card, at age 17, allowed her the space to finally "dream big." The milestone also pushed her to to experiment with self-expression through wardrobe. "Once you have more self-esteem, and you feel the ground isn't so faulty, then you can really start embracing even more about yourself, so that's where style also comes in," says Okatsuka.
"If you feel like you need to hide — or like an outsider — then, style wise, you're afraid to stand out. You feel like maybe you don't deserve to stand out," she continues. "So all of that came together, same with my comedy, after that."
Okatsuka is very close with her grandmother, who's also become a social media celebrity with 17K followers on X/Twitter, as Grandma Li (@atsukosgrandma). She often appears in her granddaughter's popular YouTube and TikTok videos, with clips that include providing comedic backup with produce and a poker face to Okatsuka's dance moves in the delightfully titled, "Grandma's My Best Friend." On a quest to make Grandma laugh, Okatsuka came up with her Beyoncé-inspired #DropChallenge, which immediately went viral. But long before becoming an integral part of Okatsuka's distinctive comedy, the family matriarch, through fashion, was encouraging the now-comedian to assert her genuine self.
"[My grandma has] always worn night market clothes, and just kept the perm for convenience, because she's so true to herself and what works for her," says Okatsuka, referencing Grandma's effortless "cute and fun" pattern-mixing oft-embraced by Chinese elders. "Because if you're comfortable in what you wear, then people notice. It just shines off of you. It's that authenticity that I took from her."
Now, Okatsuka conveys her true self by reclaiming her youth spent in uncertainty. "I'm embracing the inner child in me by dressing the way I would have liked to dress as a kid. I was maybe too embarrassed to wear bold, bright colors or prints because I wanted to fit in and look like the cool kid — and that's not what they were wearing," says Okatsuka. "So it's about just being my authentic self now: Atsuko 2.0."
Further capturing her childhood essence, Okatsuka chopped her lob-length curls into her now-signature bowl-cut in 2018. "I love bold shapes and bluntness, so it's like an adult version of the haircut that I had when I was two years old," she says. "Then it's just revamping it as an adult."
The symmetrically razor-sharp style may tap into a kid's free-spirited state of mind, but it — ironically — is adult-level high maintenance. Okatsuka's retired hairstylist-turned-social worker, and now friend, Corrine Furman, makes a house call every three weeks. "She comes and hangs out and we drink a kombucha or ice tea," says Okatsuka, who also makes a regular effort to achieve the bouncy, gleaming spherical 'do.
"It's like my daily vitamin. I take my probiotics and then I do this with my hair," Okatsuka says, describing how she blows out her hair with a round brush every morning. "For me, it's self-care because I've come to like routine. So, it's like a calming moment where, yes, this thing is the constant in my life."
But, change is inevitable. After expertly threading together hilarious bits of a trespassing interloper, the relatable (but pointless) impulse to impress imperious Zoomers and her own "Art Gallery Owner" aesthetic in The Intruder, Okatsuka will embark on her first-ever theater circuit ntour. And, she's getting her outfits ready.
"I'm trying to do an 'Atsuko 3.0' in my new tour with my look," says Okatsuka, about the aptly-named "Full Grown Tour," which kicked off in Honolulu on September 29.
"I'm trying to push how much more I can go for an avant garde look: bigger shoulders, more shapes. Stuff that still allows me to move around a lot," she says. Okatsuka teased some Batsheva, which she recently wore in silver to see Beyoncé, for exaggerated shoulders and Marni for high-waisted flowy trousers: "Almost like raver pants — super wide and really flared — then platforms to give it almost a Bratz doll look, like even more cartoony."
However, sometimes Okatsuka needs to rein in her ambitious vision for practicality's sake. "If I could, I would wear clothes that are not easy to move in because it looks so fun. I want even bigger shapes, and maybe something dragging on the floor. But I have to tone it down so that I don't fall and trip, and have to stop the show, because I'm going to the emergency room," says Okatsuka, who's also partnering with Secret Clinical antiperspirant to prep for her cross-country tour. ("When I perform over an hour a night, it has been a blessing," she says.)
Okatsuka always practices her routine at home in her planned outfit — this is to accurately develop the physical comedy, trouble-shoot any hazards, and stay comfortable. One such item she had to test drive was her Melissa original jelly shoes with the brand's famous bubblegum scent. "I made sure I wouldn't slip out of them," says Okatsuka. "It smells like perfect cherries, so my suitcase also smells good when I pack them."
Earlier in her career, Okatsuka managed her own stage wardrobe. But for her debut live show tour, she's, well, grown into a new stage to work with a stylist: Val Klarich, who costume designed A24's upcoming Dicks: The Musical, co-starring Bowen Yang and a power-pantsuited Megan Thee Stallion, and assisted on the very chic The Other Two and Saturday Night Live.
"[Klarich has] worked with comedians, which really helps because she thinks about movement and serving the comedy, but also fashion at the same time," says Okatsuka. "Which is rare in a stylist: to have expertise in both."
With the third iteration of her sartorial true self, Okatsuka takes her no-bullshit observations, gleeful childlike wonder and spontaneous bursts of dance to new levels — and enthusiastic audiences across the country. Maybe they'll show up dressed just like her, but more importantly, she hopes they also stay true to themselves.
"In my messaging with comedy, and also the way I dress, it's all spreading joy, and a sense of embracing who you are," says Okatsuka. "Being your weird self."