Sarah Jessica Parker Reveals The Items She Kept From Carrie Bradshaw's Closet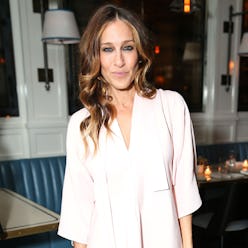 From that iconic pink tutu to her extensive collection of Manolos, Carrie Bradshaw had the closet of every fashion girl's dreams. And while our favorite TV New Yorker's wardrobe might've been, well, fiction, it turns out her alter ego Sarah Jessica Parker was given the honor of actually keeping some of those pieces IRL. (Not jealous at all.)
While the designers range from Chanel to Versace, the actress' most prized possession is not what you'd expect. "I have the Carrie necklace," she revealed in a recent interview. "I love it, and it's tucked away somewhere safe." That's because SJP herself nearly lost it, much like that moment when Carrie scrambles to find the missing Patricia Field nameplate in the Sex and the City finale.
It's not just the signature piece she managed to save. "We have probably 95% of the clothing archived. I have it all," SJP added. "I don't touch it or wear it, but all of that is really meaningful."
While it's probably not very practical to have a closet full of clothes with a hands-off policy, that's one way to make our sentimental hoarding feel a bit less shameful.