The Princess Diana Styling Trick That Can Save You A Potential Wardrobe Malfunction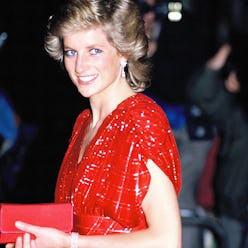 If you've ever hopped into a cab in a teensy dress, chances are you understand the struggle of getting out of said cab with enough grace and poise that you don't accidentally give passers-by a glimpse of your hoo-ha or some wayward cleavage. As it turns out, there's a surefire way to nail a classy arrival at any destination—and the person who perfectly executed that technique happened to be Princess Diana.
Whenever she would head out to a cocktail reception or royal affair, Princess Di carried with her a clutch that not only flawlessly matched her ensemble, but also stayed close to her chest. But as it turns out, the go-to bag served a double purpose.
"We used to laugh when we designed what she called her 'cleavage bags,' little satin clutches which she would cover her cleavage with when she stepped out of cars," revealed British handbag designer Anya Hindmarch, who counted the princess as one of her first clients when she opened her Chelsea store in 1993.
Of course, Diana was constantly followed by a swarm of paparazzi, so it's no surprise she found a strategic way to evade their stares (and potentially lurid photographs) when emerging from cars. We're taking a cue from this royal the next time we head out!